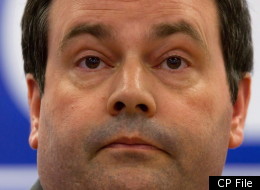 Jason Kenney lands in Montreal today to discuss
Canada's immigration levels
and how best to integrate new arrivals — a top-of-mind issue for one of the Conservative Party's newest and most important constituencies.
The stop, part of a series of consultations, comes as Kenney redefines his relationship with this new segment of the Conservative base after three years of targeted outreach in his role as minister of citizenship and immigration.
In the 2008 election, new Canadians made up the majority of the population in only three of the Conservatives' 143 ridings. The Liberals, despite winning almost half as many seats as the Tories nationally, took the lion's share of seats with immigrant majorities.
On the eve of the 2011 federal election campaign the situation did not look much better for the Conservatives. An Abacus Data poll conducted at the end of March, just as the campaign was being launched, found that
38 per cent of immigrants intended to vote for the Liberals
, 32 per cent for the Tories and 21 per cent for the New Democrats.
But when Canadians cast their ballots, the Conservatives increased their crop of ridings with immigrant majorities to 12. Almost half of the seats gained by the Tories throughout Canada had immigrant majorities. The NDP won only four seats with immigrant majority populations while the Liberals won five.
In all, 20 per cent of the constituents represented by the
Conservatives are immigrants
, roughly equal to the national average. In fact, almost 60 per cent of immigrants in Canada now live in Conservative ridings.
When Prime Minister Stephen Harper named his new cabinet after the 2008 election, Kenney was considered one of the favourites for promotion. That the MP from Calgary Southeast remained in his post may be a reflection of just how well he has handled the job in Harper's eyes.
But it's not the easiest of portfolios for Kenney. This week, it was reported that 1,800 people who had
fraudulently acquired citizenship
would be stripped of their new status. Meanwhile, Kenney delivered a message that immigrants may not want to hear, saying in Vancouver on Tuesday that Canada does "not have the resources or ability to integrate
a million new immigrants every year
."
"We have enough parents and grandparent applicants for seven years, and this problem is getting worse," Kenney added.
Nevertheless, the Conservatives are still riding high in the polls among immigrants. The last poll by Abacus Data, conducted in late June, found that
46 per cent of immigrants supported the Conservatives
, compared to 29 per cent for the New Democrats and only 21 per cent for the Liberals.
The inroads the Conservatives have made in the immigrant population of Canada, which traditionally favoured the Liberal Party, suggest the political landscape in this country has significantly changed. If Kenney can maintain this good relationship with Canada's newest citizens, the Conservatives will be in a very strong position in the next election, and perhaps for many elections to come.
Origin
Source: Huffington