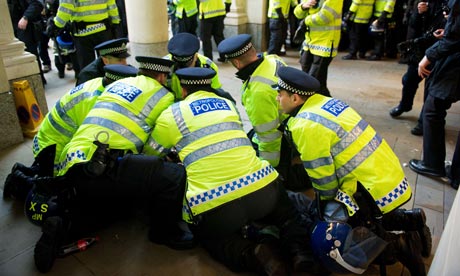 A radical plan to give private companies responsibility for investigating crimes, patrolling neighbourhoods and even detaining suspects will have "catastrophic consequences", the leader of rank and file officers has warned.
Simon Reed, vice-chairman of the Police Federation of England and Wales, said the privatisation proposals would jeopardise the chance of successful investigations and convictions and lead to the "destruction of the finest police service in the world".
West Midlands and Surrey have invited bids from G4S and other large security companies on behalf of all forces across England and Wales to take over the delivery of a wide range of services previously carried out by the police.
The list of policing activities up for grabs includes investigating crimes, detaining suspects, developing cases, responding to and investigating incidents, supporting victims and witnesses, managing high-risk individuals, patrolling neighbourhoods, managing intelligence, managing engagement with the public, as well as more traditional back-office functions, such as managing forensics, providing legal services, managing the vehicle fleet, finance and human resources.