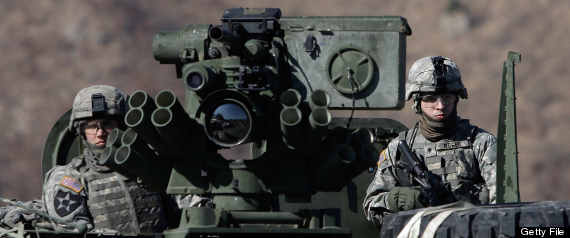 SEOUL, South Korea — South Korea on Monday conducted live-fire military drills from five islands near its disputed sea boundary with North Korea, despite Pyongyang's threat to attack.
South Korea reported no immediate action by North Korea following the drills, which ended after about two hours. The drills took place in an area of the Yellow Sea that was the target of a North Korean artillery attack in 2010 that killed four South Koreans and raised fears of a wider conflict.
The heightened tension comes two months after the death of North Korean leader Kim Jong Il. His young son Kim Jong Un has taken the helm of the nation of 24 million.
South Korean military officials said they were ready to repel any attack. Residents on the front-line islands were asked to go to underground shelters before the drills started, according to South Korea's Defense Ministry and Joint Chiefs of Staff.
North Korea's military maintained increased vigilance during the South Korean drills, though it hasn't done anything suspicious, a South Korean Joint Chiefs of Staff officer said on condition of anonymity, citing department rules. He refused to provide further details because he said they involve confidential military intelligence on North Korea.