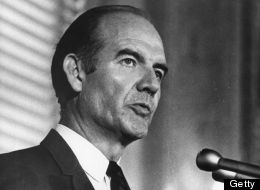 Former U.S. Senator and presidential candidate George McGovern has died, the AP reports.
He was 90.
The 1972 Democratic Party's nominee for president, he lost to Richard Nixon with only 17 electoral votes.
A longtime progressive, McGovern called for tax reform and a national health insurance. He was also a staunch opponent of the Vietnam War and ran his 1972 presidential campaign on ending it.