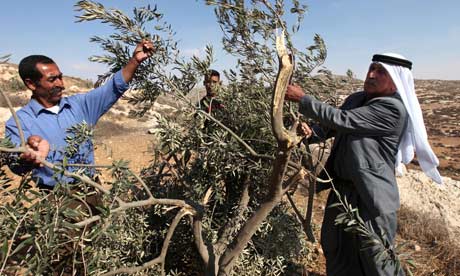 Economy minister Hasan Abu Libdeh says that Palestinians are prevented from achieving their potential
Israel
's occupation of the West Bank and
Gaza
deprives the Palestinian economy of almost £4.4bn a year, equivalent to about 85% of the nominal gross domestic product of Palestine, according to a report published in Ramallah .
As well as its detrimental effect on the Palestinian economy, the "occupation enterprise" allows the state of Israel and commercial firms to profit from Palestinian natural resources and tourist potential, the report said.
"No matter what the Palestinian people achieve by our own efforts, the occupation prevents us achieving our potential as a free people in our own country," said Hasan Abu Libdeh, economy minister in the Palestinian Authority, introducing the report on Thursday. "It should be clear to the international community that one reason for Israel's refusal to act in good faith as a partner for peace is the profits it makes as an occupying power."
Without the occupation, the Palestinian economy would be almost twice as large as it is and would be able to reduce its dependence on donor funding from the international community, according to the report
.