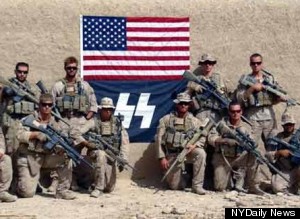 SAN DIEGO (AP) — A Marine Corps scout sniper team in Afghanistan posed for a photograph in front of a flag with a logo resembling that of the notorious Nazi SS, a military official said Thursday.
Use of the SS symbol is not acceptable, and the Marine Corps has addressed the issue, Marine Corps Lt. Col. Stewart Upton said in a statement. However, he did not specify what action was taken.
It's the second time this year the Marine Corps has had to do damage control for actions of its troops.
The Marine Corps is currently investigating a group of Marines recorded on video urinating on the dead bodies of Taliban fighters. Those Marines were based at Camp Lejeune in North Carolina.
The picture resembling the SS symbol was taken in September 2010 in Sangin province, Afghanistan. Upton said the Marines in the photograph on an Internet blog are no longer with the unit they were assigned to at the time.
The image shows a flag containing what appear to be the letters "SS" in the shape of jagged lightning bolts.