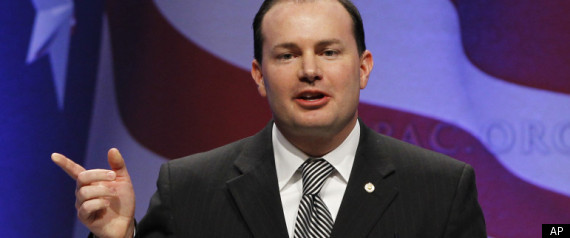 WASHINGTON -- Freshman Sen. Mike Lee (R-Utah), a member of the Tea Party Caucus, is pushing the boundaries of campaign finance law by seeking to open a super PAC account within his leadership PAC. Having two separate, segregated accounts under the banner of his Constitutional Conservatives Fund would allow Lee to accept unlimited contributions from corporations, unions and individuals.
Earlier this month, the Federal Election Commission announced that most political action committees may open a separate, segregated account to accept such unlimited contributions -- "soft money" -- so long as the funds are spent solely on independent expenditures, campaign ads and materials. Groups with the double accounts are known as hybrid PACs. The FEC issued the ruling after it reached an August consent judgment on the same issue in the case of
Carey v. FEC
.
The question that Lee raises is whether this new rule applies to leadership PACs, which are created by a lawmaker.
Lee plans on using the Constitutional Conservatives Fund to support conservative candidates through independent expenditures much as Sen. Jim DeMint (R-S.C.) did with his leadership PAC in the 2010 midterm elections.