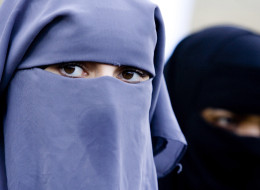 They eat halal shepherd's pie, are fond of maple syrup and believe Quebec should become an independent country — or did, at least until recently.
HuffPost Quebec sat down with three Quebec women who converted and decided to wear the veil at the risk of upsetting the people of "their country."
One would be tempted to think that Warda Naili, 31, Carina Demonceaux, 24, and Julie* (not her real name), 18, had converted to Islam after falling in love with a Muslim man and then been forced to start wearing the niqab. However, two of them are adamant that they chose to cover their faces to their husbands' great dismay.