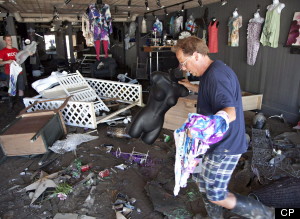 CALGARY - Alberta Premier Alison Redford says she wants to talk to the prime minister about allowing more temporary foreign workers into Alberta as her province rebuilds from recent flooding.
Redford says Alberta is going to need a robust workforce as homes and businesses are restored in devastated communities right across the southern part of the province. Both Redford and Prime Minister Stephen Harper are in Calgary this weekend for the Stampede.
"I think we need to think about what it's going to take in terms of labour and workforce to rebuild southern Alberta and we'll talk a little bit about that," Redford said to reporters before the start of the annual Stampede parade.