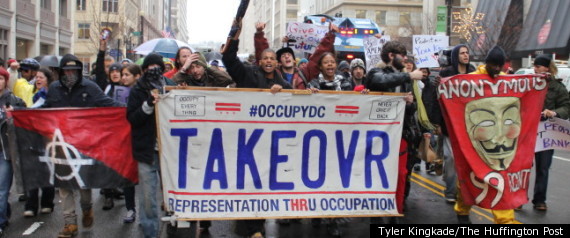 WASHINGTON -- At least 60 protesters were arrested on K Street NW, the historical lobbying hub of the nation's capital, as they blocked four key intersections, shutting down the street for much of the afternoon Wednesday.
Lasting more than an hour, a standoff between Occupy Wall Street protesters and D.C.'s Metropolitan Police Department resulted in at least three dozen arrests near Franklin Square at
14th and K Streets NW
. Police used horses for crowd control, and picked apart protesters who linked arms and went limp with their bodies.
Police on the scene did not have a complete count of how many were arrested along the K Street corridor on Wednesday, but the number was reported by National Lawyers' Guild observers and protesters to be near 60.
Most of those arrested were charged with blocking a highway, as Occupy protesters began setting up tents and quite literally occupying K Street, blocking all traffic on the heavily-traveled downtown thoroughfare that is also Route 29. Metrobus and D.C. Circulator bus services were impacted.