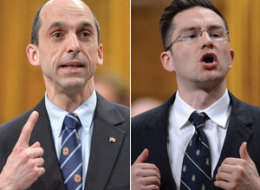 OTTAWA - The 13 hours of debate on Canada's mission in Iraq mostly centred around one central question: is bombing militants in Iraq the right way to deal with the escalating situation in the region?
The answers and arguments were sometimes creative. A look at some of the more interesting quotes:
Male private parts: "Canada, we're not gonads. We won't take terrorism lying down," Public Safety Minister Steven Blaney declared in French, using a slang word for testicles (couillons) that roughly translates into "idiots."