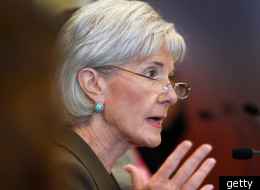 Health insurance premium hikes in nine states as high as 24 percent are "excessive" and should be blocked, the federal Department of Health and Human Services said Thursday. The agency will have to depend on states to take action, however, because the federal government lacks the authority.
The health care reform law enacted in 2010 requires health insurance companies to present premium hikes of 10 percent or more for federal review. Since the law took effect, the Department of Health and Human Services has reviewed and made public more than 180 rate-review proposals for health plans that cover 1.3 million individuals and small-business employees.
Big annual health insurance premiums became a heated issue during the congressional debate over health care reform in February 2010, just one month before the legislation passed, when a California subsidiary of the insurance giant WellPoint sought to raise rates on its 800,000 customers by as much as 39 percent. At the time, President Barack Obama said he was "very disturbed" by what WellPoint's Anthem Blue Cross proposed.