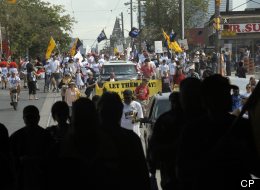 A number of labour reform proposals on the agenda at this weekend's Conservative party convention could be signs that the party is shifting further to the right, political observers say.
At least nine resolutions for amendments to the Conservative party's policy book seek to crack down on the power of organized labour. The labour reform proposals are sponsored by various riding associations in Ontario, Quebec and Alberta.
Many call for an end to union political involvement, but one amendment seeks a more radical change to the Rand formula, a staple of Canadian labour relations that requires all employees in a unionized environment to pay union dues regardless of whether they join.