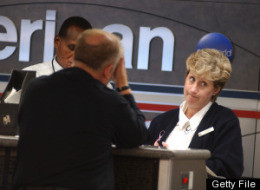 FORT WORTH, Texas -- Flight attendants and ground workers marched in picket lines Tuesday to protest American Airlines' plans to outsource jobs and cut pay and benefits under a bankruptcy reorganization.
Several of the protesters acknowledged having little hope of changing the company's course. Some said that they expect to be laid off soon.
There appeared to be 200 to 250 protesters at Dallas-Fort Worth International Airport. A few passengers disembarked from cars and rolled their bags into the international terminal while avoiding contact with the pickets.
The event was a reminder of the long and bitter divide between labor and management at American, the nation's third-largest airline. There may also be differences – at least in style – among the workers themselves. The pilots' union skipped the protest, preferring to take a less confrontational approach.
American and its parent, AMR Corp., filed for bankruptcy protection on Nov. 29 after running up billions of dollars in losses over the past decade. Two weeks ago, AMR laid out a plan to cut 13,000 jobs, kill its pension plans, reduce benefits and make other changes such as longer hours for some of its 88,000 employees.