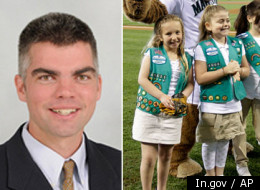 An Indiana lawmaker has decided not to support a resolution celebrating the 100th anniversary of the Girl Scouts because he feels the group is a "radicalized organization" that "sexualizes" young girls and promotes homosexuality.
In a letter sent to Indiana lawmakers obtained by the
Journal Gazette
, Rep. Bob Morris (R-Fort Wayne)
said he plans to pull his two daughters out of their Indiana Girl Scout troop because information he found online about how the organization allegedly operates
. One source he mentions is conservative "news" site World Net Daily.
The
Associated Press reports
:
... Morris said he found online allegations that the Girl Scouts are a tactical arm of Planned Parenthood, encourage sex and allow transgender females to join. He also wrote that the fact that first lady Michelle Obama is honorary president should give lawmakers pause before they endorse the Girl Scouts.