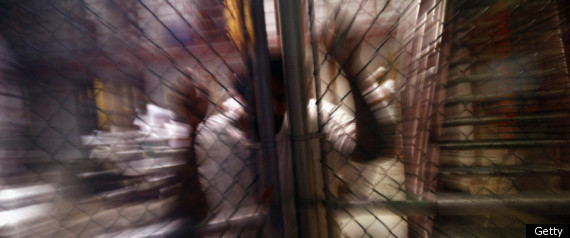 WASHINGTON -- The Justice Department inquiry into CIA interrogations of terrorist detainees has led to a full criminal investigation into the deaths of two people while they were in custody in Iraq and Afghanistan, Attorney General Eric Holder announced Thursday.
The attorney general said that he accepted the recommendation of a federal prosecutor, John Durham, who since August 2009 has conducted an inquiry into CIA interrogation practices during the Bush administration. Holder said Durham looked at the treatment of 101 detainees in U.S. custody since the Sept. 11, 2001, terrorist attacks and concluded that only these two deaths warranted criminal investigation. Holder said Durham found some of the 101 had never been held by the CIA.
Holder did not identify the two death cases. But former and current U.S. officials who requested anonymity to discuss an ongoing investigation said Durham was looking at the deaths of Gul Rahman and Manadel al-Jamadi.
Rahman died in the early hours of Nov. 20, 2002, after being shackled to a cold cement wall in a secret CIA prison in northern Kabul, Afghanistan, known as the Salt Pit. He was suspected of links to the terrorist group al-Qaida. Rahman is the only detainee known to have died in a CIA-run prison.
Al-Jamadi died in 2003 at the Abu Ghraib prison in Iraq. The death has been known to the public for years and a military autopsy declared al-Jamadi's death a homicide.
This month, a former Abu Ghraib prison guard at the time of al-Jamadi's death, Lynndie England, was ordered to testify in a grand jury probe in Alexandria, Va. A subpoena signed by Durham for England's appearance says her testimony is needed in a probe of federal criminal laws involving war crimes, torture and other offenses. The Associated Press obtained a copy of the subpoena.
England, an Army reservist serving as a military policeman at Abu Ghraib, was among 11 soldiers found guilty of wrongdoing in the mistreatment of prisoners at Abu Ghraib prison in 2003 and 2004. Photographs showed England holding a restraint around a man's neck, and giving a thumbs-up and pointing at the genitals of naked, hooded men, a cigarette dangling from her mouth.
England's attorney, Roy Hardy, told the AP that England testified along with former MPs Chip Frederick and Sabrina Harman before the grand jury earlier this month.
On his last day as CIA director, Leon Panetta emphasized the wide scope of Durham's preliminary review.
"After extensive examination of more than 100 instances in which CIA had contact or was alleged to have had contact with terrorist detainees," the prosecutor "has determined that no further law enforcement action is appropriate in all but two discrete cases," Panetta, who will be sworn in Friday as the new defense secretary, said in a statement.
Panetta added that "both cases were previously reviewed by career federal prosecutors who subsequently declined prosecution."
"I welcome the news that the broader inquiries are behind us," Panetta said. "We are now finally about to close this chapter of our agency's history."
Full Article
Source: Huffington