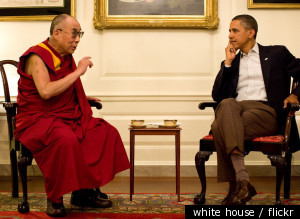 WASHINGTON -- President Barack Obama held a White House meeting Saturday with the Dalai Lama, a fellow Nobel Peace laureate, hours after China called on the U.S. to rescind an invitation that could sour relations with Beijing.
The Tibetan spiritual leader has been in Washington for an 11-day Buddhist ritual. Thousands of expatriate Tibetans joined a 76th birthday celebration Wednesday for the Dalai Lama, who's just relinquished leadership of Tibet's government-in-exile.
The White House said the 45-minute private session in the Map Room showed Obama's support for preserving Tibet's culture and protecting human rights, as well reaffirming his belief that Chinese government should engage with representatives of the Dalai Lama to resolve their differences.