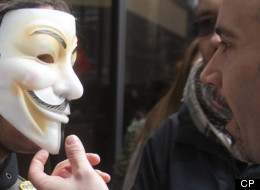 Federal legislators are currently debating a proposed law that could carry a 10-year jail term for concealing your identity during a riot.
Introduced last November by Conservative backbencher Blake Richards, Bill C-309 was a private member's bill inspired by the Stanley Cup riot in Vancouver last June and the G20 riot in Toronto in June 2010.
Richards said police had been seeking better ways to respond to public assemblies that become dangerous.
It is already illegal to take part in a riot, but Bill C-309 would create a separate offence criminalizing the use of a mask while participating in such an action.
The bill is back in the House of Commons on Monday before going to the Senate for final approval.