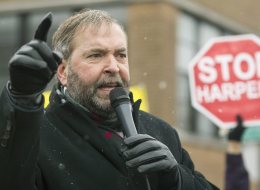 MONTREAL - NDP Leader Tom Mulcair is reiterating his openness to a possible coalition with the Liberals if it is necessary to topple Stephen Harper's Conservatives.
While expressing confidence he will become prime minister with a majority government, Mulcair told reporters Tuesday the scenario of a minority government cannot be excluded and that turfing the Tories is imperative.
The Opposition leader accused his Liberal counterpart, Justin Trudeau, of putting personal interests ahead of those of Canadians.