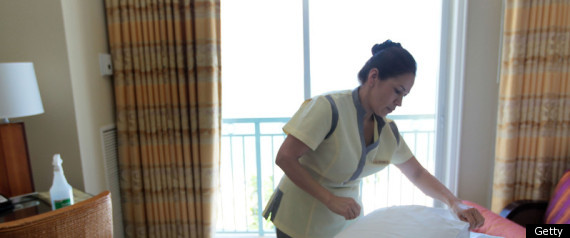 INDIANAPOLIS -- Maria Fajardo has been working as a housekeeper and janitor in Indianapolis hotels since 1987. The job has changed a lot in 24 years, but not for the better. The work is much more difficult than it used to be, and the pay comparatively much less.
"It's really sad," the 62-year-old grandmother from Mexico said in Spanish through a translator. "We're hurting our bodies more and more, and we're not getting any closer to getting out of poverty."
Hotel workers in this town say their workloads have increased in recent years while their wages have remained flat or even fallen. In some cases, the housekeepers are expected to clean roughly twice as many rooms as they were just a few years ago, often working off the clock to meet their quota and avoid being disciplined. As the cost of living has climbed, they find themselves worse off than they were a decade ago.