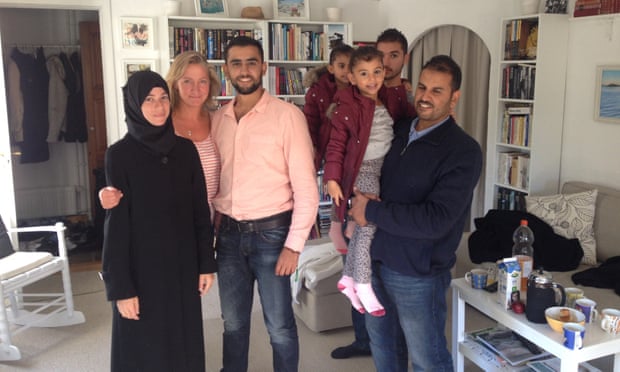 The trial on Friday of a high-profile Danish campaigner for children's rights under people trafficking laws promises to shine a spotlight once more on the country's crackdown on asylum, as Scandinavian countries compete to make themselves unattractive destinations for refugees.
Lisbeth Zornig, the country's former children's ombudsman and a well-known author, stands accused of allowing a family of Syrians to hitch a ride with her to Copenhagen.
Her husband is in turn charged with taking the family into their home for coffee and biscuits, and then driving them to the railway station, where he bought them tickets to Sweden.
The trial is one of the first of hundreds of Danes who responded in early September to the thousands of refugees who walked from Germany into Denmark, many of them on their way to Sweden where the asylum regime at the time was more relaxed.
Under Denmark's Aliens Act, it is a crime to transport people who do not have residence permits. Police say 279 people have been charged in the period from September 2015 to February 2016.
In January, a man was fined DKr5,000 (£517) for driving an Afghan family from the German border in September. On Thursday, a 70-year-old pensioner was fined DKr12,500 for a similar offence.
While driving in southern Denmark on 7 September, Zornig passed crowds of refugees on the road. "I simply could not go home with the car empty. I did not think it was forbidden to take hitchhikers," she said.
Zornig picked up four adults and two small children, and was interviewed on Danish television while she made room in her car for them. "I thought smuggling was when you pass a border and when you take money or benefit from it – not driving inside the country," she said. "But unfortunately that seems to be the case in Denmark."
Zornig is pleading not guilty to what she describes as "helping people in distress". A verdict is expected on Friday.
A UN protocol against trafficking of migrants defines people smuggling as acts motivated by "financial or other material benefit", said Bjørn Elmquist, a lawyer for Zorning and several other Danes charged with trafficking. Yet Danes have been helping refugees at their own expense.
A 2002 EU directive on illegal transit also states that EU member states can decide not to apply sanctions if people are motivated "to provide humanitarian assistance", Elmquist said. Neither treaty is binding on Denmark.
"Denmark is no longer the number one in Europe on human rights, but at the bottom of the table. The past 10 years have seen the dismantling of Danish human asylum law," Elmquist said.
Zorning has become a voice for ordinary people who saw footage of refugees on the news in early September and wanted to help, according to Line Søgaard, a spokesperson for refugee support group Welcome to Denmark.
"The number of refugees coming to Denmark is dropping, but we speak about it as if we are Greece," Søgaard said. "Common sense seems like a city in Russia right now, it seems such long way away."
Danish politics have become increasingly polarised since parliament in January passed a controversial package of measures restricting asylum rights, including granting police powers to strip refugees of cash and valuables.
"There is a very different feeling among at least urbanised Danes, who see these prosecutions as unnecessarily punitive," said Ian Manners, professor of European politics at the University of Copenhagen.
"In a different climate the cases would have been dropped – in any other country it would impossible to prosecute, imaginable in Hungary perhaps," he said, adding that some senior officials have welcomed citizens' assistance in simply getting refugees through Denmark as fast as possible to cut down the numbers seeking asylum.
"It is an obligation as a person to act when you have the power to do something. You have to oppose laws that persecute other people," said Reem Al-Awwad, 24, a student and a member of With the Human Traffickers, a group that helps to organise transit for refugees through Denmark. She and three others from the group face a potentially more serious charge of helping refugees cross the border into Sweden.
"I have been very worried that I could lose my right to stay here and be deported," said Al-Awwad, whose parents are Jordanian but who does not yet have Danish citizenship, despite being born in the country. But that does not mean I regret doing what I did, and I would do it again."
Original Article
Source: theguardian.com/
Author: David Crouch