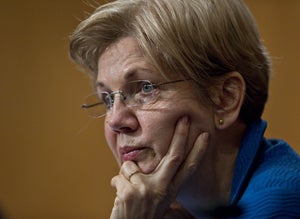 A Republican congressman on the House Committee on Financial Services thinks Sen. Elizabeth Warren (D-Mass.), one of the most vocal advocates for Wall Street reform, needs to be "neutered."
Rep. Blaine Luetkemeyer (R-Mo.) made the comments during a panel discussion at an American Bankers Association conference Wednesday. According to Politico, Luetkemeyer said people needed to "find a way to neuter" Warren, whom he called the "Darth Vader of the financial services world."
Rep. Ed Perlmutter (D-Colo.), who was also on the panel, criticized the comments, saying Warren "speaks for a lot of people," according to Politico.
Asked about the comments during an appearance on MSNBC's "All in with Chris Hayes," Wednesday evening, Warren was unfazed.
"Look, if Wall Street and their buddies in the Republican party want to launch an assault on financial regulations and they want to say 'let's roll back Dodd-Frank' all I can say is 'let's have that fight,'" she said. "I'm ready. You can make it with words or anything else you want, but I am not backing down."
Nita Chaudhary, co-founder of UltraViolet, an advocacy group working to expand women's rights, said the comments showed how GOP presidential front-runner Donald Trump's rhetoric had seeped into political discourse.
"Luetkemeyer should immediately apologize to Senator Warren for his offensive language," she said. "There is plenty of room for disagreement in Washington, but resorting to sexist name-calling should have no place in our political discourse."
Luetkemeyer's office did not immediately respond to a request for comment.
Original Article
Source: huffingtonpost.com/
Author: Sam Levine