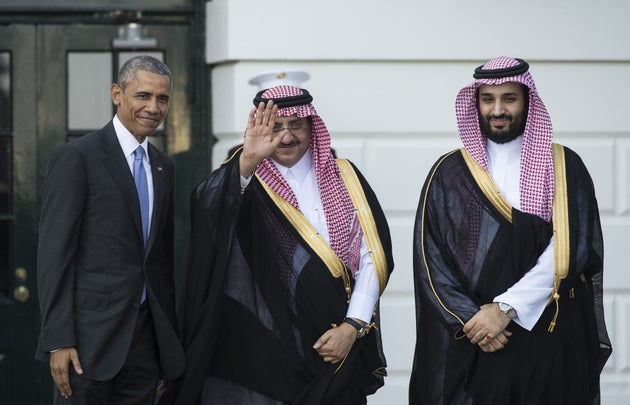 President Barack Obama is meeting with Saudi Arabia's king and other Gulf Cooperation Council leaders key issues including counterterrorism. But his arrival in the capital Riyadh on Wednesday has also shone a spotlight on the U.S. ally's appalling human rights record.
Obama's last trip followed the death of King Abdullah and the ascension of King Salman to the throne. Many observers predicted that Salman's rule would largely be a continuation of Abdullah's policies, but Saudi Arabia has instead intensified its crackdown on dissent and expanded its involvement in regional conflict and crises.
In the past year, executions in Saudi Arabia surged to the highest level in decades, and rights groups have widely condemned Riyadh's military intervention in Yemen for violating international law. The government has also continued to prosecute and arrest activists, often through broad anti-terrorism laws designed to stifle dissent.
"Human rights were already on a downward trend and that's only continued under the new king," James Lynch, deputy director of the Middle East and North Africa Program at Amnesty International, told The WorldPost.
CRACKDOWN ON DISSENT
The Saudi government has led an intense assault on human rights in the country from the last years of Abdullah's rule in 2013 and 2014, through to the current era of King Salman, Lynch said.
"Basically, all independent human rights defenders or prominent independent human rights activists are either in prison, have fled the country or are awaiting trial," he added. "It's been pretty bleak."
The Gulf country has arrested numerous political activists and journalists on charges relating to calling for increased freedom of speech or criticism of the government, sometimes on social media platforms. Last month, the government sentenced journalist Alaa Brinji to five years in jail for a series of posts on Twitter that professed support for political prisoners and activists.
Rights groups have routinely criticized Saudi Arabia's flawed justice system for violating basic legal rights and preventing access to fair trials, including allegations of confessions obtained under torture in the case of three convicted child offenders. Officials announced in March that the men would face execution.
Many trials are held in private, but one of the most famous cases involved the liberal blogger Raif Badawi, who was publicly flogged early last year. Saudi authorities had sentenced him to 10 years in jail and 1,000 lashes in 2014, on charges relating to insulting Islam. Police arrested Badawi's lawyer Waleed Abu al-Khair on charges related to undermining the state after he had defended his client. In April 2014, Saudi authorities sentenced al-Khair to 15 years in prison under a broad anti-terrorism law.
EXECUTIONS
In addition to the arrests of activists, executions in the country have skyrocketed. Beginning with the beheading of 19 people over the course of two weeks in August, 2014, Saudi Arabia's use of the death penalty has significantly increased in recent years. The kingdom executed at least 158 people last year — the most since 1995.
A wide range of offenses can lead to capital punishment in Saudi Arabia, including adultery, apostasy and sorcery.
Sixty-four of the death sentences last year were for drug-related crimes, according to Amnesty's report. A little under half of those executed in 2014 were foreign nationals.
The high rate of executions hasn't shown any signs of slowing this year. Saudi Arabia began 2016 by carrying out 47 death sentences in its largest mass execution since 1980. Among those killed was prominent Shiite cleric Nimr al-Nimr, whose death prompted massive protest and a reprisal attack on the Saudi embassy in Iran.
"There's a real sense that the Saudi authorities were using the death penalty in that case to settle political scores and crush opponents of their authority," Lynch said. Nimr al-Nimr's nephew Ali al-Nimr is now on death row, after being convicted at age 17 on charges relating to Arab Spring protests in 2012.
INTERVENTION IN YEMEN
Since taking over the throne, King Salman has pursued an aggressive, interventionist foreign policy and increased Saudi Arabia's military spending to become the third highest in the world.
The Saudis' most visible action from its shift in policy is its intervention into Yemen's civil war, leading a coalition made up of Gulf Cooperation Council states. The coalition sought to stop a Houthi insurgency against the Yemeni government through a heavy airstrike campaign, but its bombings have also devastated the country and killed hundreds of civilians since they began in March 2015. Strikes have hit civilians in busy markets, Doctors Without Borders facilities and a wedding party.
Prince Zeid Ra'ad Al Hussein of Jordan, the United Nations' top human rights official, said in February that some of the bombings may constitute international crimes. Rights groups have called for an independent investigation into civilian deaths caused by the strikes.
ARMS DEALS
Despite the devastating impact of the Saudi-led campaign, Western governments have continued arms sales to the country throughout the past year. The United Kingdom has licensed around 2.8 billion pounds since the Saudi intervention, while the U.S. approved a $1.9 billion sale in December. Canada, too, quietly approved export permits this year for a controversial deal to sell the Saudis around CA$15 billion worth of light armored vehicles. And a Human Rights Watch report alleged this month that coalition forces dropped a U.S.-supplied MK-84 2,000 pound bomb on a Yemeni market in January, killing at least 97 civilians and 25 children.
Before Obama's last visit to Saudi Arabia in January 2015, the president told CNN that the U.S. had to "balance" its priorities of promoting human rights with the goal of countering terrorism and promoting regional stability.
"What we don't see is real pressure on Saudi Arabia, publicly, to abide by international humanitarian law — because the reality is that we've seen significant violations of international humanitarian law by the coalition that Saudi Arabia is leading," Lynch said.
"That should be a major part of the conversation that President Obama is having with Saudi Arabia and the other GCC states."
Original Article
Source: huffingtonpost.com/
Author: Nick Robins-Early