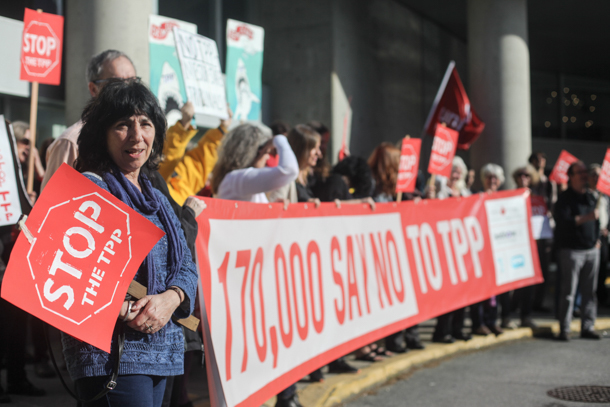 Scores of Lower Mainland residents who wanted to tell the House of Commons Standing Committee on International Trade what they think of the 12-country Trans-Pacific Partnership trade and investment deal negotiated by the Harper Conservatives were denied that chance Monday.
More than 50 people rallied outside the Richmond Radisson Hotel where the hearings were scheduled to be held, eventually being frisked before entering the hearing hall on a red carpet laid by protesters that read "170,000 Say No to TPP" -- referring to the number of signatures on an anti-TPP petition.
Although the committee did choose to hear from some applicants Monday, as for 170 other members of the activist group Leadnow who had applied to address the committee, they learned last week, without explanation, that they would not be heard.
"They were all rejected," said the group's Vancouver organizer, Jolan Bailey. "They didn't even tell us when they did. We only found out when they published the list of who was speaking -- we noticed that none of our people were on there."
The cross-country hearings are part of a consultation process that Trade Minister Chrystia Freeland touted in a Jan. 25 open letter as "a robust and transparent examination of the TPP.
"In particular," the minister wrote, "this should include extensive, non-partisan consideration, analysis, and testimony from all regions, sectors, and backgrounds. Most importantly, this process will be fully public."
'We politely decline'
Freeland would not comment on the consultation Monday. "We will have to politely decline your interview request," stated Global Affairs Canada spokesperson Diana Khaddaj in an email.
But Freeland defended the consultation process last Monday before the House of Commons: "We promised during the campaign to consult, and that is what we are doing."
Her parliamentary secretary, David Lametti, added that the process has included more than 200 "interactions" with 400 stakeholders, including provincial governments, First Nations, industry, academics and civil society, and has received more than 15,000 emails and letters from members of the public on the issue since November.
"The agreement was signed by the previous government without consulting Canadians and without truly studying the impacts," Lametti told Parliament.
But Freeland's January open letter also lauded the TPP's purported goals of trade enhancement: "Strengthening Canada's trade performance is one of the ways we will work to strengthen our middle class and support high-wage jobs," she wrote.
"Canada is a trading nation. As our government has made clear, we want to expand economic opportunities for all Canadians, and trade with our Asia-Pacific partners is key to making that happen."
'A case of too far'
Outside the Richmond Radisson, retired international development worker Joseph Gilling said that he too had been snubbed by the hearings despite having filed a four-page brief outlining his concerns that the Trans-Pacific Partnership.
"I'm for trade," the 72-year-old told The Tyee, saying his 25 years in the development field had taught him that global trade is "a very important means of development."
"But not this TPP agreement," he said. "This is a case of going too far." And although Freeland signed the deal in February, Gilling hoped to take advantage of her promise that Canada would not ratify it until hearing from the public.
In particular, he shared other critics' concerns over the pact's investor-state dispute settlement terms, which he said allow foreign companies to take Canada to court for policies deemed harmful to industries protected under the agreement.
But he was unimpressed with the way the committee was going about hearing those complaints. "It was hard to even find out what the process was," he said. "This process is not well thought-out. It's not a broad public consultation at all. It's one that starts from, 'How can we get this thing through.'"
Jumbotron exile
Meanwhile, several organizations that had rented a large-screen Jumbotron display for the day -- on which they had hoped to project videos of Canadians criticizing the TPP -- scrambled to find a place to put it after the hearing venue, an adjacent shopping mall, and a nearby gas station all refused it space.
Eventually, organizers with OpenMedia.ca settled on renting a space behind a black metal fence across No. 3 Road from the hearings, with the giant display facing away from the road and visible only from an aluminum retailer.
The group's inability to display their criticisms of the Trans-Pacific Partnership legally in public view, along with what he described as an "inaccessible" hearing venue, suggested to OpenMedia.ca's senior strategist Steve Anderson, "how secretive and closed off this process is."
"Look at this place," he quipped, a row of parked cars, a fence and a SkyTrain line blocked the view of his Jumbotron from the Radisson. "It's not set up for the public at all, it's not accessible, and they're just hearing from the people they chose.
"This is not an open process at all, and definitely not what the government campaigned on. It's not open to public criticism."
A new website for TPP resistance
One of those who had been invited by the committee to speak was Brenda Sayers, of Hupacasath First Nation, who represented the Union of B.C. Indian Chiefs at the consultations.
"We're focusing today on the Investor-State Dispute Settlement clause and how it will undermine the rights of First Nations to make decisions for our people," she said before going inside. "Canada will then have to look at the First Nation's argument and the foreign state's, and decide who they're going to support."
But despite sharing other organizations' concerns about secrecy, corporate influence, and reduced national sovereignty, Sayers says it has been difficult getting the word out. "Trade agreements aren't a subject that most people take an interest in, because of their dry content and how complex they are," she noted.
To help change that, a coalition of Canadian groups launched a new website last Thursday to collect testimony from Canadians concerned about the trade deal, and inform them about the groups perspectives. The initiative included the Council of Canadians, Wilderness Committee, and trade unions Unifor and the Communications Workers of America.
"Our concerns with the TPP cut across many sectors of our union and the economy," said Roland Kiehne, Unifor's director of membership mobilization and political action, in a statement. "It should not be ratified in its current form."
Original Article
Source: thetyee.ca/
Author: David P. Ball