The Liberal government's four-person panel charged with reviewing Ca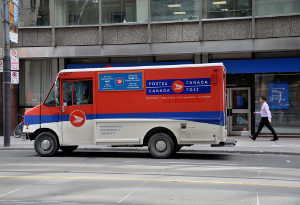 nada Post is already facing concerns over one member's links to a private sector partner of the Crown corporation.
Public Services Minister Judy Foote announced the Review Thursday, saying the panel will focus on the "needs and expectations" of Canadians for Canada Post.
But the panel includes Krystyna Hoeg, who is on the board of directors of Shoppers Home Health Care, a subsidiary of Shoppers Drug Mart, a drug-store chain owned by grocery giant Loblaws.
Shoppers Drug Mart hosts postal outlets across Canada staffed by its employees. Unions representing postal workers consider the outlets privatized post offices and a threat to the government service.
Foote said she sees no problems with Hoeg's appointment.
"I certainly have no issue... and I'm not anticipating any criticism," Foote said. "I think her reputation speaks for itself, her experience speaks for itself." Hoeg is the former CEO of Corby Distelleries and on the boards of CP Rail, Imperial Oil and Sun Life.
Foote said the review will be "open and transparent" and would include consultation with Canada Post employees.
But NDP MP Erin Weir wondered why the Liberals couldn't find someone else in the country to sit on the task force.
"They only picked four people out of a nearly unlimited pool of potential candidates, so it does seem odd that they chose someone connected to a company that has such a close business relationship with Canada Post," she said.
The Canadian Union of Postal Workers (CUPW) is also concerned about Hoeg's links to Shoppers Drug Mart.
"That being said, we're still digesting this task force and its mandate," said Mike Palecek. The union hasn't decided if it will make a formal complaint about the appointment, he said.
Brenda McAuley, president of the Canadian Postmasters and Assistants Association, said she isn't concerned by the appointment because Foote has promised Canada Post won't be privatized.
Shoppers Home Health Care is a subsidiary of Shoppers Drug Mart, she noted, and its directors have no say in decisions related to dealer post offices.
Original Article
Source: thetyee.ca/
Author: Jeremy J. Nuttall