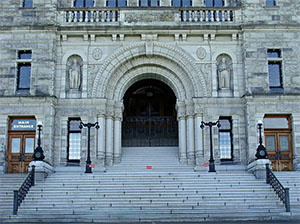 As a reporter, Bob Mackin is used to feeling on occasion that powerful people are ignoring the at-times uncomfortable questions he asks, but it's rare he has it confirmed that he's being ignored.
That confirmation came Friday in an email from British Columbia's conflict of interest commissioner Paul Fraser, who writing on his BlackBerry about an email from Mackin wrote, "Let's continue to ignore all of his requests."
It is unclear who Fraser's intended recipient was, but he sent the message to Mackin, who attributed receiving it to Fraser's "poor BlackBerry skills."
Mackin said it's poor policy for public officials to ignore reasonable questions from reporters. "The more they ignore you, the more you wonder why," he said. "It often doesn't end well for those who do the ignoring."
Fraser this week cleared Premier Christy Clark after the NDP's David Eby and Democracy Watch's Duff Conacher made complaints related to donations to the BC Liberal Party, high-priced private fundraising events, and the $50,000 in pay that the premier receives from the party on top of her publicly funded salary.
Mackin's emailed questions related to why the BC Liberal caucus had copies of Fraser's ruling before the complainants did, donations that Fraser may have made to the BC Liberals before he was commissioner, and an alleged conflict of interest he has.
Fraser's son John Paul Fraser is a deputy minister in the government and a long-time associate of Clark, Mackin wrote. Conacher has alleged Fraser is conflicted because of the relationship, he said. In 2012, Fraser recused himself from investigating a different complaint about Clark, but this year did not, and Mackin wanted to know why.
'Troubling' to ignore: Holman
"I think they're reasonable questions and he'd be best to answer them and clear the air so we can all move on," Mackin told The Tyee in a phone interview.
Mackin said that Fraser's son is one of the most important deputies in the government and was appointed through an order in council, so could lose his job at the whim of cabinet or Clark.
He's also vulnerable to changing political winds, Mackin said. "He could lose his job next year if the election goes the other way."
An official answering the phone in Fraser's office Friday said the commissioner is not doing interviews because his report on the complaints about Clark speaks for itself.
"It is not appropriate for someone in Mr. Fraser's position to ignore members of the media, and one wonders why he is," said Sean Holman, a journalism professor at Mount Royal University in Calgary and a former member of the B.C. legislature press gallery.
"I find it troubling that an independent officer of the legislature, whose job is to perform an accountability function, would be so reluctant to talk to journalists who are also in the business of performing an accountability function," he said.
Holman said it's his opinion that Fraser should have resigned his position due to the family relationship with a senior member of the government. "I think Mr. Fraser has to ask himself why he would put himself in a position where his motives and his judgment [are] being constantly questioned by reasonable people."
Original Article
Source: thetyee.ca/
Author: Andrew MacLeod