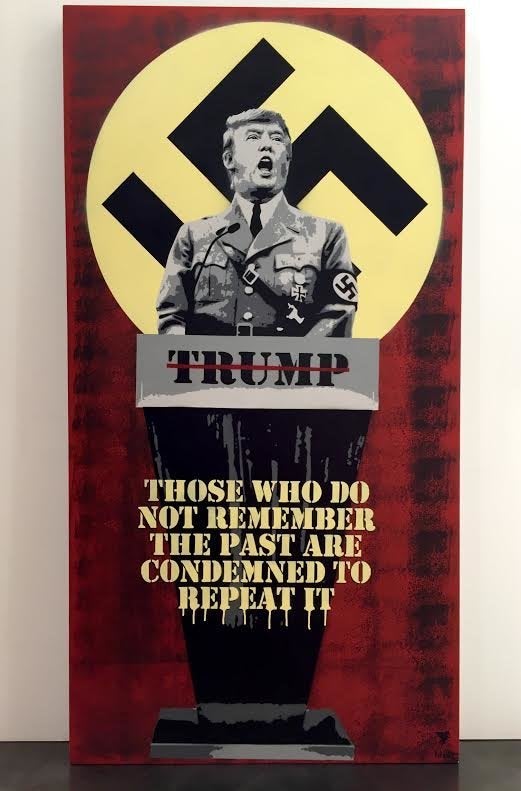 Street artist Pegasus says he won't be censored, despite receiving death threats from Donald Trump supporters over a piece that likens the presumptive GOP presidential candidate to Adolf Hitler.
He told The Huffington Post via email that dozens of menacing telephone calls have been made to his manager in recent days.
Some people have threatened to stab, kidnap or gun him down.
Others have vowed to sabotage his upcoming show in Los Angeles, where he is planning to exhibit a version of the piece he initially painted on the side of a pub in Bristol, England, in February.
A few have reportedly promised that when Trump becomes president, Pegasus will be stripped of his U.S. citizenship and deported.
But the street artist, who is from Chicago but now lives in London, said he won't be silenced. And he's promised that the second stop of his "Gods & Monsters" tour at Artists Corner will still go ahead on Oct. 1 — with the Hitler/Trump piece included.
"I have the best security team on the night," he told HuffPost. "I will never give in to fear mongering, nor will I ever be censored. I am American and I believe in freedom of speech and artistic freedom of expression."
"I have endlessly stated my opinions on Trump and all I have left to say is the man is a tyrant," Pegasus added.
He told Mashable that the Los Angeles Police Department had been "very supportive" over the threats and that uniformed cops would attend the event.
The Huffington Post has reached out to the LAPD for further comment.
Leonard Villa, Pegasus' manager, told Mashable the situation was "quite frightening really," adding, "I think people must be really obsessed with Donald."
Original Article
Source: huffingtonpost.com/
Author: Lee Moran