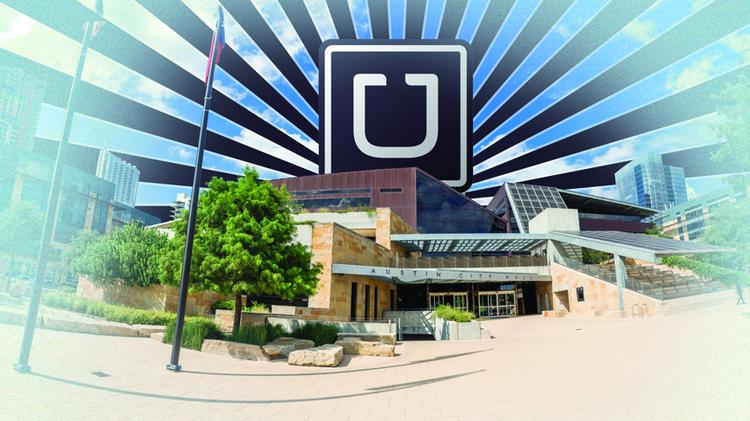 A lobbyist for Uber Technologies Inc. has filed an open records request to obtain more than a year's worth of my emails and text messages sent to city of Austin elected leaders and staff.
Uber's Austin-based lobbyist Adam Goldman, CEO of Congress Avenue firm The Goldman Group, filed a public information request with the city of Austin on April 22 seeking the emails and texts that I sent to City Council members, their policy aides, staff in the Austin Transportation Department, and the city attorney's office for a period stretching from Jan. 1, 2015 to April 22, 2016.
The request comes after the Austin Business Journal published my cover story April 22 examining the effectiveness of Uber and Lyft Inc.'s lobbying efforts in December and January as Austin City Council was considering controversial revisions to regulations for transportation network companies. Titled "How Not to Lobby Austin City Hall" the report was partially sourced from thousands of emails and some text messages sent between Uber and Lyft's lobbyists and city staff, elected leaders and the general public obtained by the ABJ in a public information act request filed with the city. Those documents included dozens of emails and text messages either to or from Goldman. Neither Uber, Lyft, nor their lobbying teams agreed to speak on the record for that story.
Goldman told me Thursday that the request was motivated by curiosity, and that Uber played no role in his decision to send the records request. An Uber spokesperson said Wednesday that the company was unaware of the request.
"I was curious to see who was speaking with you," said Goldman, who has yet to receive a response from the city regarding his records request. "It's that simple. I put the request in using my name and email address, for the business. If I wanted to hide it, I could have used a dummy email address. Hopefully that tells you that I intended to let you know."
In 2014, Uber attracted some criticism after Buzzfeed reported that Uber's senior vice president of business, Emil Michael, suggested at a private dinner in New York that his company should hire opposition researchers to dig up dirt on the private lives of journalists who report critically on the company. After that story was published, Uber spokespeople insisted the company does not hire opposition researchers to look into journalists' private lives.
While it might be easy to view Uber's open records request for my emails and text messages in that light, I don't see it that way. That's partially because I use open records requests to get information to help me do my job, and I don't necessarily see simple research as, in itself, intimidatory. Goldman has just as much right to request records of my interactions with City Hall as he – or anyone else – has to request records of any other interactions with city officials.
Happy hunting, Mr. Goldman. As it was for me as I waded through TNC lobbyists' emails to research my cover story, you're about to discover a handful of messages showing me setting up some meetings.
Original Article
Source: bizjournals.com/
Author: Michael Theis