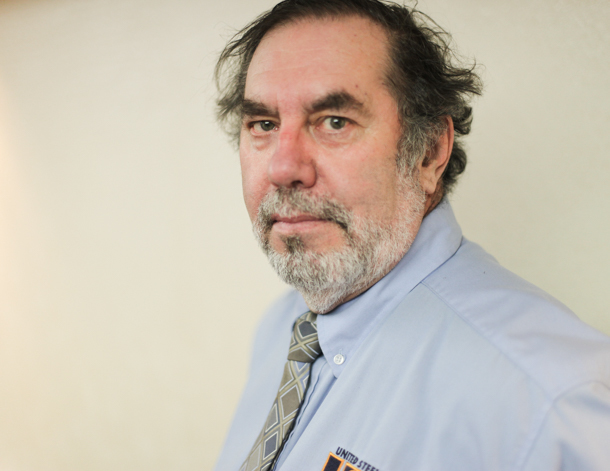 At 69, Leo Gerard's been arrested more times than he can count, on picket lines and in protests.
But his first time in the slammer, at age 13, was especially memorable. He was detained by "company police" in his "company town" near Sudbury, Ont., after getting in a fistfight while leafleting for his dad's union, which was in-fighting with a rival union at the Creighton Mine.
His brief detention, and father's admonition later, remind him of the dangers of workers turning against each other. Today, Gerard is based in Pittsburgh, Pennsylvania, as the international president of the 1.2 million-member United Steelworkers, and sits on President Barack Obama's trade advisory committee.
Today's unions need to learn the same lesson about unity, the veteran labour leader said, as they face off against massive global investment deals such as the Trans-Pacific Partnership.
That agreement, which Canada has signed but not yet adopted, and another the U.S. is negotiating with Europe (with which Canada signed a trade and investment deal under the Harper government), could cost North America tens of thousands of manufacturing jobs and make it easier for corporations to avoid national labour laws and sue governments, he warned.
Just as the corporations behind such investment pacts have globalized their operations, Gerard said, labour movements "need a position in global society."
To begin to accomplish that, Gerard has been forging ties with unions in Australia, Mexico, Brazil and the U.K., and co-founded the BlueGreen Alliance, a coalition for sustainable jobs, with the Sierra Club.
The Tyee had a chance to ask the veteran leader about the bigger thinking he says today's labour movement needs. Here are his thoughts. Our interview is edited for clarity and length.
The Tyee: Blue collar workers have been among the hardest hit by globalization in North America, because of outsourcing jobs and closing factories. How is that playing out in Canada?
Leo Gerard: "[Companies] are moving our jobs offshore to get a better return. Canada is really resource rich from coast to coast to coast. Why don't we put our stamp on all those resources and say, 'You can leave the country with them, but you've got to add value.' We're not against exports. We're not against trade. We're just against exporting our jobs. That's the failure of these trade deals.
"One of the problems in the U.S. is we have the ability to file cases that say they're breaking the trade law, and we've gotten intermittent relief. But it's like running down the street yelling, 'My house is on fire!' Does it put out the fire? It doesn't. In Canada, the law is even less adequate. The union can't file its own trade cases, it has to hop on with someone else or try to get intervenor status.
"Right now, in Canada, the Trudeau regime has an opportunity to be honest. During the campaign, they didn't talk very nicely about [Stephen] Harper and the Trans-Pacific Partnership. They gave the impression that they wouldn't sign it; now they give the impression that they've already signed it. 


"The stupidity of the minister of International Trade to say, 'I'm going to sign it, but we still haven't decided if we're going to ratify it.' Once you sign it, it's done. Do you think Canada's going to tell the Japanese and the Americans and the Mexicans, 'This is the change we want, or we're not in'? The level of dishonesty at a very basic level is being shown very early in the Liberal government."
Let's talk about labour in North America. There's a sense for some that the labour movement has lost its voice or been sidelined in the media.

"The labour movement is perceived by the right, the extreme right and the radical right as the last impediment to their total domination. So at the state level, they try to use the state laws that are easier to influence by buying governorships and majorities in the state houses -- and then using those majorities to undermine not just the labour movement, but progressive movements.


"That is what puts the labour movement in their sights, because the labour movement is one of the last but still strongest voices in society on making life better for ordinary folks.


"When we talk about, 'Kill a worker, go to jail' that's not just about us; that's about every worker. When we fight for employment insurance, that's not for us; our people are working. It's for the people who don't have a chance. When we fight for an improved minimum wage, most people don't join a union to get minimum wage; we're fighting for people who aren't our members."

Why is it that younger people under 30 so often have a negative view of unions?

"I think you're wrong. I think they don't understand the role of the union.
"It's how you shape the question. If you say to them, 'Would you like to join together in an organization to give you a better standard of living?' they say, 'Yes.' If you ask them, 'Will you join a union?' their view of it is what they've been taught by the multinational media. Most of the media is corporate-owned.


"Those pollsters that shape the question in a way they think will predict the answer, are spending a lot of time trying to disqualify the labour movement from having a meaningful economic role in society. 


"Just look at the people standing behind the podium when Bernie [Sanders] speaks. They're not fat, middle-aged white guys like me. They're young people who want a better future.

"Part of the problem is, in each workplace we have individual fights, individually trying to save our pension plan from bankruptcy. Why should we have to fight to save our pension plan? It was a promise: I put my money into a fund that would be there when I retire.
"The labour movement's got to get involved in some bigger fights that transcend just each workplace."

How does your international union work fit into that?

"The labour movement wasn't born the way it is now. It was born out of independent institutions that were benevolent societies in a workplace. As workplaces changed, they later became trade unions, and then we became multinational. We followed the trends in the industry. So the labour movement has to change."

What does that change look like?

"We rejected regionalism, or nationalism, and understand we need a position in global society. So we started creating alliances. The first one was with IG Metal, the largest private sector union in Germany. Then we did the Brazilian Metalworkers' strategic alliance. Then we did an alliance with the Australian Workers' Union and the Australian Construction, Forestry Mining and Energy Union. Then we did an alliance with Mineros, the Mexican mining and metalworkers' union -- we've worked really hard on that one.
"It wouldn't be beyond the realm of possibility that someday we merge, and have a union from the southern tip of Mexico to the North Pole. Our strategic alliances are interconnected. They come bargain in Vancouver; we'll send delegations to Mexico. It's basically integrated now.
"One of the more exciting things we've done is create a brand new institution, Workers Uniting, between the largest private-sector union in Great Britain, Unite, and the USW.


"It's in its infancy, but we're starting something. Most of us will be long gone, but there's going to be a day when we'll be able to bring global pressure on some global company -- maybe a mining company -- and we'll be able to have similar standards. Not identical standards, because each country has its own culture, but similar standards in all the collective agreements. Because we'll have been sitting beside each other at the bargaining table.
"I hope I live long enough to see it happen."
Original Article
Source: thetyee.ca/
Author: David P. Ball