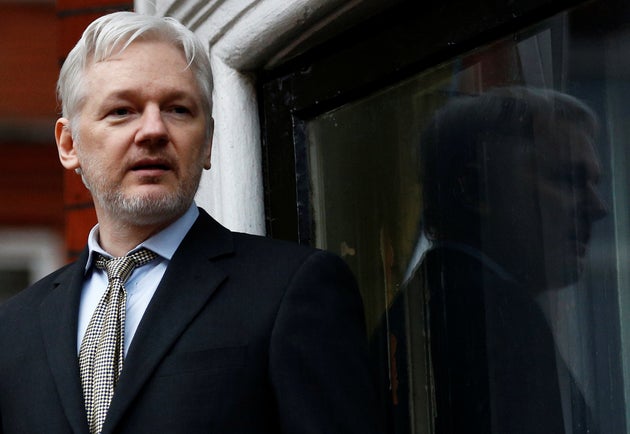 WASHINGTON ― WikiLeaks timed the release of thousands of embarrassing internal Democratic National Committee emails to coincide with the party's 2016 convention extravaganza, Julian Assange, the group's founder and editor-in-chief, told Democracy Now! in July. But that doesn't necessarily mean Assange supports Donald Trump — or Russia, which Hillary Clinton's campaign has claimed was behind the theft of the emails.
Here's the truth: WikiLeaks makes editorial decisions like any other media outlet. Those decisions generally reflect the priorities of Assange, who is a determined critic of Clinton and the U.S.-led global order and argues WikiLeaks tells the unvarnished truth about the world. And a Huffington Post review found that overwhelming majority of the primary source documents WikiLeaks has published are embarrassing to the U.S., not other world powers such as China and Russia.
Most — 33 of the 35 — categories of documents on WikiLeaks' full contents page relate to alleged misdeeds by the U.S. or its allies. That includes thousands of U.S. government documents, mostly from the Defense Department, and files from U.S. partners like the European Union, Saudi Arabia and Turkey, as well as American-linked organizations like the International Monetary Fund and the Italian spying firm Hacking Team.
Assange's political views do not impact WikiLeaks, said a spokesperson from Sunshine Press, of which WikiLeaks is a project, who wrote that comments sent to The Huffington Post were "the formal positions of WikiLeaks."
"WikiLeaks is uniquely resistant to the political views of its staff since we publish pristine primary source archives," the spokesperson told HuffPost in an email on Tuesday. "All our analysis is backed [by] our full publication of primary source archives. This is called 'scientific journalism' ― which we invented."
Although most of WikiLeaks' actual leaks are embarrassing for the U.S. and its allies — and Russia may well have been behind WikiLeaks' DNC leak — that doesn't mean Assange wants to see the Russians running the world. (U.S. intelligence officials and cybersecurity experts say the Russian government was likely behind the theft of the DNC documents. Assange will not reveal his source, and it's unknown whether the source was the same entity behind the hack.)
"I have never seen a pro-Russia bias in him or in WikiLeaks," said Tangerine Bolen, founder of RevolutionTruth, an organization that defends WikiLeaks and whistleblowers. She said Assange may appear to be focusing on the U.S. only because he is trying to critique "a dangerous power asymmetry" that allows Americans to commit major abuses, like those in the name of the War on Terror.
Assange's interest in courting the broad audience of skeptics of America — and his personal fixation with the U.S. — are more relevant to understanding his motivations than any pro-Russia bias, according to former WikiLeaks volunteer spokesman Daniel Domscheit-Berg.
"It's an economic consideration: what will keep you in the news the most, your number of Twitter followers," Domscheit-Berg said.
He added that Assange has become so fixated on leaks relating to U.S. foreign policy that he is "suffering from the lack of shades of gray when it comes to judging governments or judging things that are happening in the world."
Domscheit-Berg left the organization after a falling-out with Assange. WikiLeaks told HuffPost it considers his statements "false" and said he is a "disgruntled former (2009) volunteer and media hoaxer" and a "discredited source." (He responded by saying he spent three years there starting in 2007, and was a volunteer for WikiLeaks the way all others at that time were. "It all sounds so funny like a statement any organization would give as a response to someone blowing the whistle on some [of] their internals," Domscheit-Berg wrote.)
The anti-U.S. slant in WikiLeaks' published material could also be attributed to the fact that WikiLeaks is an English-language platform, and naturally may receive more leaks on the U.S. and its friends. Like other media outlets, the organization can't control who is leaking to it, and its lack of transparency means it is impossible to determine what proportion of the material it receives is published. Domscheit-Berg said the documents the group received during his time there came "disproportionately" from the Anglo-American sphere ― a boon for the organization's public profile.
"Non-English releases have generally been met with silence or near silence, which is not good for an organization that needs to be in the limelight of transparency causes on a fairly regular basis," said Maximilian Forte, a professor in anthropology and sociology at Concordia University who has written about WikiLeaks.
Assange also has good reason to be especially critical of the U.S. He fears extraordinary rendition and potential execution by the U.S. for his role in leaking State Department cables, though U.S. officials deny that they have prepared American charges against him. And the U.S. has supported Sweden's efforts to force Assange to answer questions about sexual assault allegations against him. (Assange has denied the allegations.)
The WikiLeaks founder seems to see Hillary Clinton, in many ways the personification of the U.S. establishment, as his chief nemesis. Emails show Clinton is "receiving constant updates about my personal situation," he said in an interview published in June, and he has warned she "will push the United States into endless, stupid wars which spread terrorism." (He's no champion of Donald Trump, either, but the vast majority of his public statements about the U.S. election are critiques of Clinton.)
Assange and WikiLeaks regularly attack U.S. foreign policy, whether from the official WikiLeaks Twitter account or on a television show that premiered on the Russian state-run channel RT, whose first episode featured a softball interview with anti-U.S. militant and Hezbollah leader Hassan Nasrallah. Assange uses his carefully crafted image as a brave and neutral truth-teller to make sweeping statements about American and European conspiracies.
Meanwhile, he has attracted support from powerful anti-U.S. actors in his battle with Swedish authorities. Two right-wing political parties in Europe that are skeptical of Washington and close to Russia, the far-right National Front in France and the pro-Brexit U.K. Independence Party, have called for their countries to grant Assange asylum so he can avoid questioning by Sweden. (The Swedish government recently announced that it was renewing efforts to resolve the sexual assault case by asking to interview Assange in the Ecuadorean embassy in London, where has sought shelter for fear of arrest by Sweden, the U.K. and ultimately the U.S.) Assange recently backed those parties' cause celebre, Britain's departure from the European Union.
WikiLeaks has claimed that its neutrality is clear because it has published "more than 2.5 million documents about Russia + Syria." (Syria's ruler, Bashar Assad, is a strategic Russian ally and a longtime foe of the U.S. because of his stance against Israel and support for militancy in Iraq and elsewhere. After a massive uprising against is rule in 2011, Washington began to support his removal from power while Russia backed up his regime.)
In 2010, the outlet promised to release a major dump of sensitive Russian documents that would embarrass Putin. The WikiLeaks spokesperson said the cables led to "many stories and books about corruption in Russia and subsequent court cases and successful asylum claims."
HuffPost could find no major leaks of files showing the inner workings of the Russian government. The documents about Russia that are available on WikiLeaks are State Department cables, not internal Russian communications. They are harsh on President Vladimir Putin and corruption among his country's elite. However, such messages don't damage him as much as aid his narrative that the West is desperate to deny Russia's success and its natural role on the world stage. Lisa Lynch, an associate professor of English and communications at Drew University who has followed WikiLeaks, said what's on the site does not appear to reflect what WikiLeaks claimed in 2010 regarding revealing documents on the Russian government. "Whether [WikiLeaks spokesman Kristinn] Hrafnsson was overstating what was in the diplomatic cable release ― or whether there were further leaks that were not published ― is unknown," she added.
The organization's talk about Syria may have been a reference to a cache of emails from the Syrian regime of Bashar Assad that WikiLeaks calls the Syria Files.
WikiLeaks promised these materials would undermine Assad. The cables led to articles about Assad family corruption. But these were in publications like Al-Akhbar, a Lebanese outlet that is generally sympathetic to anti-Americanism and Assad, and offered no real threat to Assad's rule. Instead of showing Russia, Iran or Syria in the wrong, WikiLeaks' Syria Files primarily embarrassed the U.S. and Assad, by showing the ties between the two. The outlet spoke of them as proof of Western hypocrisy.
None of this means Assange would turn down an opportunity to embarrass Putin or other anti-American figures. If someone gave Assange emails showing Putin and intelligence firms orchestrated the DNC hack to get Trump into power, Assange would "publish that in a second," said Gabriella Coleman, a professor at McGill University who studies the politics of hackers. ("We would be very happy to obtain Mr. Trump's tax-returns or similar data for the RNC," the WikiLeaks spokesperson told HuffPost.)
Ultimately, Coleman argues, Assange probably just doesn't care whether his leaks are benefiting Russia. "They can be very well aware that this could be either directly from, or even if it's not directly ... feeding into the interests of the Russian state," she said. "But that makes no difference to them."
Still, WikiLeaks' opaqueness makes it impossible to assess what factors the outlet considers in deciding what to publish and when, Domscheit-Berg said.
"The only rule is that they make the rules," he said. "As long as this is not transparent, it's a Pandora's Box."
Original Article
Source: huffingtonpost.com/
Author: Akbar Shahid Ahmed, Dana Liebelson