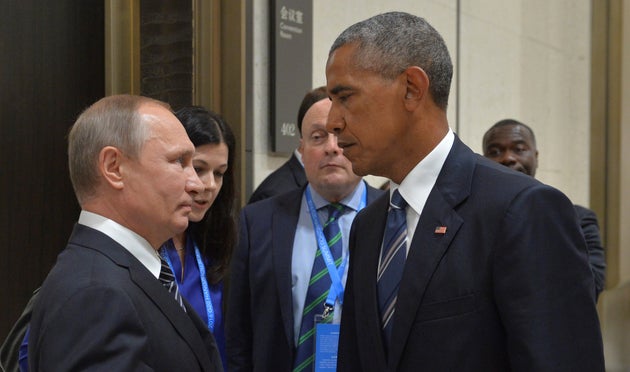 WASHINGTON ― President Barack Obama sanctioned top Russian officials on Thursday in response to Moscow's reported hacking during the U.S. presidential election.
"All Americans should be alarmed by Russia's actions," the president said in a statement.
Obama's successor, president-elect Donald Trump, has cast doubt on the U.S. intelligence community's conclusion that Russia was responsible for unearthing and releasing material damaging to Trump's Democratic opponent, former Secretary of State Hillary Clinton. On Wednesday, Trump said it was time to "move on" and repeated that he believes it's impossible to know who targeted Clinton.
But Obama appears committed to proving Russia's responsibility. His administration wants Congress to receive intelligence reports showing the proof before Trump enters office and is able to call off such investigations.
The Department of Homeland Security and the FBI released a 13-page joint report on Thursday that provided some details of what the agencies know about the Russian actions. Officials may release more public details on its findings soon, according to The New York Times.
The Intercept reported Thursday morning that the National Security Agency has successfully tracked Russian hacking in the past; its capabilities may be the key to the intelligence community's confidence in Russia's meddling.
"These data theft and disclosure activities could only have been directed by the highest levels of the Russian government," Obama said on Thursday. "Moreover, our diplomats have experienced an unacceptable level of harassment in Moscow by Russian security services and police over the last year. Such activities have consequences."
Obama's sanctions target the Russian intelligence agency believed to be responsible for the hacking, and they place Trump in a bind: It could be politically difficult for him to waive the sanctions once he is in office, particularly because many on Capitol Hill, including members of his own party, are keen to signal toughness against Moscow.
House Speaker Paul Ryan (R-Wis.) issued a statement commending Obama's plan soon after the president announced it. "Russia does not share America's interests. In fact, it has consistently sought to undermine them, sowing dangerous instability around the world," he said, though he criticized the president's past handling of Moscow.
The Trump transition team did not immediately respond to a request for comment.
Original Article
Source: huffingtonpost.com/
Author: Akbar Shahid Ahmed