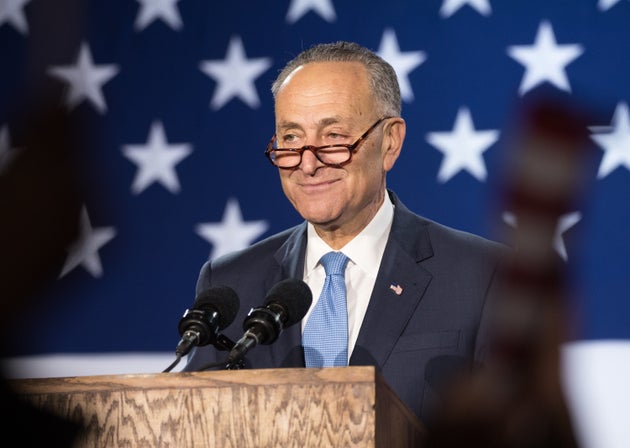 WASHINGTON ― Democrats chose Sen. Chuck Schumer (N.Y.) to helm their caucus in the Senate Wednesday, making him the first-ever Jewish leader to head a party in Congress.
Schumer, who first won election to the House of Representatives in 1992, has served in the Senate since 2000, and has risen steadily in the ranks. He shepherded the Democrats into the majority in 2006 when he led the party's campaign committee. Republicans won back control in 2014.
He was long a top adviser to retiring Senate Minority Leader Harry Reid (Nev.), and his ascension to Reid's post Wednesday indicates that his members still have confidence in his strategic acumen despite the setbacks of 2014 and this year, which saw the remarkable rise of Donald Trump.
The timing of Schumer's own rise becomes more significant against the backdrop of Trump, whose campaign was marred and fueled in part by raw anti-Semitism that most Americans had not seen in decades.
Reid advised his party members Tuesday to work with Trump where they can, but to stand firm in denouncing racist, bigoted statements and policies.
Schumer is likely to do both, and many see him as precisely the right man for the job.
Some liberals, however, think Schumer's penchant for deal-making and power-brokering make him inherently unsuited as a leader in a time when voters just thoroughly rejected another establishment senator from New York in the form of Hillary Clinton.
They see him as too closely tied to the failed strategies of the last two elections, and too intricately bound up in Wall Street and the financial industry. Some opponents have called for Elizabeth Warren or Bernie Sanders to step to the fore, although they have not advanced themselves for the job.
Original Article
Source: huffingtonpost.com/
Author: Michael McAuliff