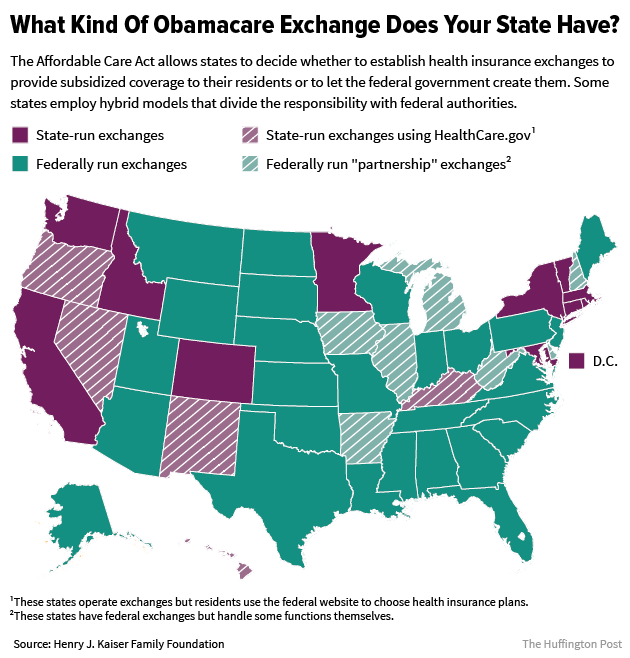 WASHINGTON ― Health insurance enrollments on the federal exchange marketplaces served by HealthCare.gov are outpacing last year's sign-ups, Health and Human Services Secretary Sylvia Burwell announced Wednesday.
As of Monday's deadline for customers who want coverage that will be in place by Jan. 1, 6.4 million people had chosen plans in the 39 states where federal authorities operate the exchanges, including more than 2 million new customers.
The overall total is an increase of 400,000 from a comparable period a year ago, Burwell said. The 2 million new enrollees is down from the 2.4 million new customers who signed up during the same period last year, however. Last Thursday was a record-breaking day for HealthCare.gov enrollment, President Barack Obama said last week.
"We're going to finish this open enrollment by trying to enroll more people than ever," Burwell said during a conference call with reporters. "Today's enrollment numbers confirm that some of the doomsday predictions about the marketplace are not bearing out."
The enrollment figures made public Wednesday don't include current customers whose plans will automatically be extended by the end of the year or the enrollments in 11 states and the District of Columbia, which run their own exchanges. A final tally ― which Burwell said would include millions of additional people ― will be revealed in January.
Several state-based exchanges also have announced sign-up figures.
Covered California had enrolled nearly 200,000 people as of Dec. 15, Washington Healthplanfinder in the Evergreen State had logged 180,000 as of Wednesday, and Your Health Idaho had enrolled almost 100,000 through Dec. 13. DC Health Link in the District of Columbia announced Friday that enrollment is 47 percent higher than a year ago, at more than 4,100 through Monday, while 28,000 people had signed up with Rhode Island's HealthSource RI as of Saturday, a decline of 4,400 for the same period last year.
The Obama administration and state exchange officials faced significant challenges heading into the current open enrollment period, which began Nov. 15, chief among them were large increases in unsubsidized premiums. About 85 percent of exchange enrollees in 2015 and 2016 qualified for subsidies, but the remainder, along with millions who buy policies directly from an insurer or through a broker, stand to face the full brunt of the rate hikes next year.
Insurers raised prices to compensate for higher-than-expected expenses during the first two years of the exchanges, as too few healthy customers signed up to offset the cost of medical care for sicker enrollees. In addition, several major health insurance companies withdrew from the exchanges or at least reduced their participation, leading to fewer choices for consumers in many states.
Despite concerns this would depress enrollment, Burwell declared the results so far are in line with Department of Health and Human Services projections that the exchanges would grow by a little more than 1 million people during this sign-up period. The last day to enroll in coverage for 2017 is Jan. 31.
The Election Day success of President-elect Donald Trump and congressional Republicans presented another short-term obstacle to a successful enrollment period. Consumers who understand the GOP has plans to undo the Affordable Care Act next year may have been reluctant to sign up for programs that may cease to exist.
Burwell encouraged people to enroll for 2017 despite this looming disruption. The Affordable Care Act remains the law and insurers are pledged to honor the coverage they sell during open enrollment, she said.
Trump and Republican leaders in Congress are poised to move legislation early next year to dismantle large portions of the Affordable Care Act, including the funding the law provides to subsidize private health insurance on the exchanges and to finance the Medicaid expansion for poor residents that 31 states and the District of Columbia adopted under Obamacare.
The GOP's tentative plan is to enact this repeal and delay debating legislation on an alternative to the Affordable Care Act for up to four years, leaving insurers and customers in limbo about what may come next.
Citing an analysis by the Urban Institute, Burwell cautioned that this approach would not only result in coverage losses for those who would be without financial assistance and the guarantee of insurance regardless of pre-existing conditions, but also destabilize the insurance market for everyone who isn't covered by job-based plans or government programs such as Medicare.
According to the Urban Institute, that could mean as many as 30 million people could become uninsured, reversing the Affordable Care Act's role in providing coverage to 20 million people who previously lacked it and in driving down the uninsured rate to the lowest in history.
The likelihood of Obamacare repeal next year heightens the stakes for Burwell and the rest of the Obama administration.
Maximizing enrollment and creating a larger constituency for the Affordable Care Act's benefits could provide better leverage for congressional Democrats and interest groups to slow down the repeal movement and influence the direction of Republican efforts to "replace" Obamacare. The GOP has never adopted a unified position on what its health care reform platform is.
"We want uninsured Americans to know one thing: They've not missed their chance for coverage," Burwell said.
The Department of Health and Human Services will continue its advertising, outreach and social media campaigns into January, and the IRS will contact people who paid a tax penalty for not being insured last year informing them of their opportunity to enroll, she said.
But it will be the incoming Trump administration that will finish the current open enrollment period, which ends 11 days after the new president is inaugurated.
"We stand ready and we'll work with the new incoming administration to do everything we can to prepare them for that role," Burwell said. "We have done everything we can to make sure that the team that are the career staff, the people that are here serving in any administration, are ready."
Original Article
Source: huffingtonpost.com/
Author: Jeffrey Young