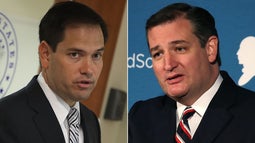 WASHINGTON ― Three Republican senators — including two former presidential candidates who've long criticized former Secretary of State Hillary Clinton for the attack on the U.S. diplomatic compound in Benghazi — introduced a bill on Tuesday that would halve funds for embassy security, construction and maintenance until the next president moves the U.S. Embassy in Israel to the disputed city of Jerusalem.
The measure, introduced by Sens. Marco Rubio (R-Fla.), Dean Heller (R-Nev.) and Ted Cruz (R-Texas), would scrap a waiver that three successive presidents have used to ignore a bipartisan 1995 law that required the embassy to move from Tel Aviv to Jerusalem by 1999 or face funding cuts. Senate Minority Leader Chuck Schumer (D-N.Y.), who co-sponsored the 1995 bill, still supports moving the embassy, but didn't immediately respond to a question about whether he supports the new bill.
President-elect Donald Trump has long vowed to move the embassy to Jerusalem. But there is a long history of presidential candidates making that promise before reneging once in office. Former Presidents Bill Clinton and George W. Bush made similar campaign pledges but later decided against a move that would predetermine a critical component of peace negotiations.
Both the Israelis and Palestinians lay claim to Jerusalem, and its status is one of the most challenging issues in reaching a two-state solution. East Jerusalem is considered occupied territory and most countries do not recognize Jerusalem as Israel's capital.
While they were in office, Clinton, Bush and President Barack Obama each signed national security waivers built into the 1995 legislation that allowed them to delay moving the embassy to Jerusalem for another six months. But Rubio, Heller and Cruz hope to prevent Trump from reneging on his promise by removing the president's power to issue that waiver.
The diplomatic security environment and the politics around it have changed significantly since the 1990s. There was a dramatic decline in attacks on American diplomats in the mid-1990s, according to data from the State Department and the University of Maryland National Consortium for the Study of Terrorism and Responses to Terrorism's Global Terrorism Database. Here's a chart Mother Jones assembled based on that data: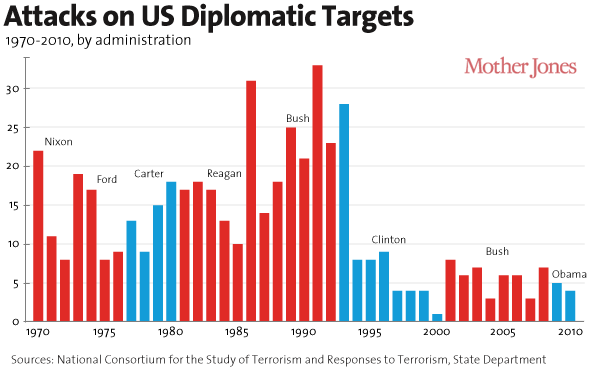 Yet diplomatic security funding increased, growing more than 1000 percent between 1998 and 2012, John Norris, the director of the Sustainable Security Initiative at the liberal Center for American Progress, told PolitiFact in 2014. The State Department now employs four security people per diplomat, Norris told the fact-checking group.
Despite that increase in funding, however, the State Department was required to issue security contracts to the lowest bidder that could do the job. As The Huffington Post reported last year, that policy forced it to rely on Blue Mountain Group, a relatively unknown British firm, and Muhannad Alamir, Blue Mountain's Libyan partner, to hire the unarmed guards who failed to do their jobs the night of the Sept. 11, 2012 attack on the facility in Benghazi.
Partially in response to the Benghazi tragedy, Congress has temporarily authorized the State Department to award local guard contracts based on "best value" rather than lowest price. Some lawmakers, including Sen. Tammy Duckworth (D-Ill.), support making that change permanent. But cutting the embassy budget in half might make that harder.
Obama last signed a waiver delaying the Jerusalem embassy move on Dec. 1, 2016. Trump's transition team said declaring a timeline for the promised move would be inappropriate before Trump becomes president on Jan. 20.
But there is widespread speculation that he is readying to relocate the embassy. David Friedman, the man Trump tapped to serve as the U.S. ambassador to Israel, has donated to pro-settlement organizations and disputed the fact that the West Bank is occupied territory. Friedman has said he is eager to serve as ambassador in a Jerusalem-based embassy.
Although most Americans still support a two-state solution to the Israeli-Palestinian conflict, the Republican Party platform has increasingly drifted away from that position. The 2016 GOP platform made no mention of the two-state solution. "We reject," the platform stated, "the false notion that Israel is an occupier."
Rubio and Cruz lost to Trump in the Republican presidential primaries.
Original Article
Source: huffingtonpost.com/
Author: Nick Baumann, Jessica Schulberg