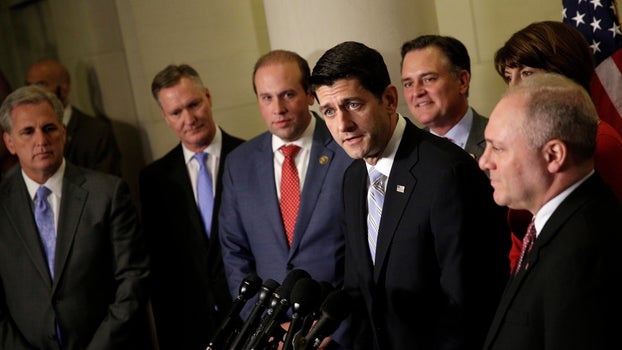 WASHINGTON ― Republicans are dead set on acting swiftly to dismantle the Affordable Care Act without having a new health care reform platform in place because they know their party doesn't have a way forward, House Minority Leader Nancy Pelosi (D-Calif.) said Monday.
The congressional GOP leadership's preferred strategy on Obamacare ― dubbed repeal-and-delay ― is to begin moving filibuster-proof legislation through Congress as soon as lawmakers return this week, with an eye toward presenting it to President-elect Donald Trump to sign right after he's inaugurated this month.
But Republicans plan to postpone developing their own health care proposals for up to four years ― after the next presidential election ― because the party has never been able to agree on what it wants to do instead.
To Pelosi, this signals that the House GOP leadership knows it faces major obstacles uniting its fractious caucus around what role the federal government should have in creating the conditions for more Americans to obtain affordable health insurance coverage.
"Repeal and delay is an act of cowardice on the part of the Republicans," she said during a conference call with reporters Monday. "Where are they going to get the votes to replace? If, in fact, ideologically they're opposed to a public role and any participation in the good health of the American people, where are they going to get the votes, unless they were to act in a bipartisan way?"
Pelosi previously predicted Republicans would fail to even pass their repeal bill.
Trump and Republicans in Congress are in full agreement that the Affordable Care Act must go, not least because they have been promising to undo the law since President Barack Obama enacted it in 2010. But during that time, the GOP has failed to coalesce around an alternative.
House Speaker Paul Ryan (R-Wis.) released a broad framework for a new health care platform last year, and Trump's choice for secretary of Health and Human Services, Rep. Tom Price (R-Ga.), has authored health care reform legislation.
But Trump's positions on the issue have veered from supporting a universal health care plan to calling for major cuts in safety net programs like Medicaid. And Senate Republican leaders have never produced so much as a set of talking points about what the health care system after Obamacare should look like.
Already, influential Republicans like Senate Health, Education, Labor and Pensions Committee Chairman Lamar Alexander (Tenn.), Sen. John McCain (Ariz.) and Sen. Susan Collins (Maine) have expressed trepidation about repealing the Affordable Care Act without a "replacement" plan. And in the House, members of the conservative Freedom Caucus are bucking against their leaders on repeal-and-delay.
The Affordable Care Act has brought the national uninsured rate to a historic low and extended coverage to about 20 million previously uninsured people.
Repeal-and-delay could affect even more Americans, however. If the GOP makes clear to health insurance companies that the Obamacare exchanges will disappear, many are likely to abandon the fragile new marketplaces, leaving consumers with fewer choices and higher prices, according to an analysis by the American Academy of Actuaries.
According to the Urban Institute, as many as 30 million people could lose their health coverage under repeal-and-delay.
And Republican leaders now face the daunting prospect of tackling the thorny issues of health care costs, coverage and access that bedeviled Democrats while legislating and implementing the Affordable Care Act. Republicans also have barely begun sorting through the concerns and interests of hospitals, insurers and others in the health care system regarding another major disruption to the industry.
The GOP also lacks one advantage Democrats have always held: a consensus about the goals of health care reform.
Progressives have long agreed that universal coverage, or close to it, was the chief aim of reforming the health care system, and that getting there would require a large federal funding commitment and an expanded federal role in regulating the health insurance industry.
Republicans oppose both those things on ideological grounds, and don't believe in universal health care as a matter of principle. That means whatever they may eventually devise on health care inevitably will cover fewer people, provide less help for low-income families and include fewer consumer protections.
Within the GOP, some lawmakers favor doing nothing at all beyond repealing Obamacare, preferring to simply return to the market that existed before. Other Republicans would prefer a significantly scaled back version of what the Affordable Care Act does by offering some form of financial assistance to a portion of the population and a lesser guarantee of coverage for people with preexisting conditions.
Congressional Democrats wield little power to halt or even change the course of the Obamacare debate that will reignite when Congress reconvenes after Trump assumes office. And the party has failed to win over the American public on the issue since Democratic lawmakers began writing the Affordable Care Act at the beginning of Obama's first term in 2009.
Democrats are hoping that enough people ― including Republican voters ― will speak out against losing their health coverage if the Affordable Care Act goes away, forcing the GOP to hesitate now or pay the price later. Democrats can also attempt to point to promising, if uncertain, signs that the troubled Obamacare exchanges are improving.
"People react more from fear of what might be taken away than they do for something that is a prospect of a good thing coming their way," Pelosi said. "These families, whatever their politics, know that personally they will pay more for less, if they have any health insurance at all."
Pelosi and other top congressional Democrats including incoming Senate Minority Leader Chuck Schumer (N.Y.) have called for a "day of action" in support of the Affordable Care Act on Jan. 15. They've also asked Democratic lawmakers to stage events around the country opposing an Obamacare repeal, along with GOP proposals to cut Medicare, Medicaid and Social Security.
Obama plans to visit Capitol Hill Wednesday to rally congressional Democrats ahead of the Affordable Care Act repeal fight.
And although surveys by the Henry J. Kaiser Family Foundation consistently have found more Americans continue to disapprove of the Affordable Care Act than approve of it, the public doesn't appear keen on full repeal, either. According to the foundation's post-election poll, just 26 percent of people support scrapping the law altogether, while 49 percent prefer keeping it or even expanding it.
Original Article
Source: huffingtonpost.com/
Author: Jeffrey Young