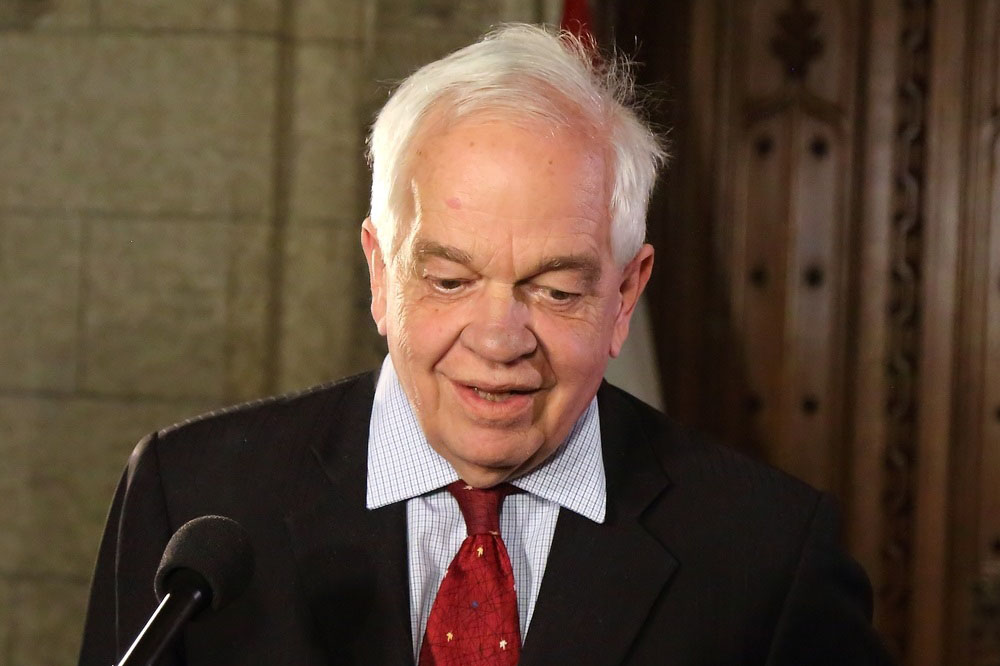 Prime Minister Justin Trudeau's new choice for ambassador to China show he's focused on promoting business, not human rights and the interests of Canadian workers, according to one China expert.
Trudeau shook up his cabinet Tuesday, shuffling Ontario MP John McCallum out of his role as immigration minister and into the ambassador's job in Beijing.
Charles Burton, a China expert from Brock University, said the appointment signals the Liberal government is ready to let China conduct business with Canada on its own terms.
That includes labour issues, he added.
"I think the Chinese government is seeing this as a stepping stone to having Chinese infrastructure projects in Canada being carried out by imported labour from China," Burton said.
As immigration minister, McCallum has eased restrictions on the controversial Temporary Foreign Worker program and has said he wants to see more Chinese nationals make use of the program.
That aligns with the aims of the Chinese government. In 2014, China's consul general in Calgary, Wang Xinping, told the Globe and Mail that Canada should allow Chinese companies to bring their own workers for projects in Canada to boost their profits.
Ottawa has said it wants to enter into exploratory talks with Beijing on a free trade agreement. A similar agreement with Australia included allowing Chinese firms to import their workforce.
But Burton said there are positive aspects to McCallum's appointment.
McCallum's current position in the Canadian government will give him similar status to ambassadors from countries like the United Kingdom or United States, he said.
"Sending someone who is well-connected in Ottawa, who has a high rank in government and has a direct line to the Prime Minister's Office, is obviously something that China will welcome."
The coming Donald Trump presidency could make the appointment of a Beijing-friendly ambassador like McCallum handy in the event Trump implements trade restrictions on the two nations, Burton said.
Ambassadors don't set policy, they just implement it, he stressed.
But Burton said McCallum is unlikely to stand up to China on human rights or other issues.
China has seen elevated criticism for human rights abuses and concerns over its aggressive moves in the South China Sea.
McCallum is known to have relationships with Canadian groups sympathetic to the concerns of the Chinese government, Burton said, adding that he couldn't recall the former minister ever broaching the subject of human rights in the country.
He said McCallum has also been silent about increasing investment from the Chinese government in "critical" Canadian sectors, which polls show many Canadians do not support.
Employment minister MaryAnn Mihychuk was dumped from cabinet as part of the shakeup Tuesday.
Mihychuk had been vocal about her concerns the TFW program was resulting in Canadian workers being squeezed from their jobs and replaced by foreign workers, even telling The Tyee she was open to a review of the program in October.
She had been speaking to the Labourers' International Union of North America about a possible review of the role of the TFW program in the construction industry.
Mark Olsen, the union's western sub-regional office manager, fears that with Mihychuk gone his union will have to start from scratch convincing the new minister Patricia Hajdu to go ahead with a review.
"I hope we're not, but I think we're back to square one," he told The Tyee.
Olsen said he too is worried McCallum's appointment to China could mean Chinese companies will have a friendly ear when they press to bring in their own workers.
Original Article
Source: thetyee.ca/
Author: Jeremy J. Nuttall