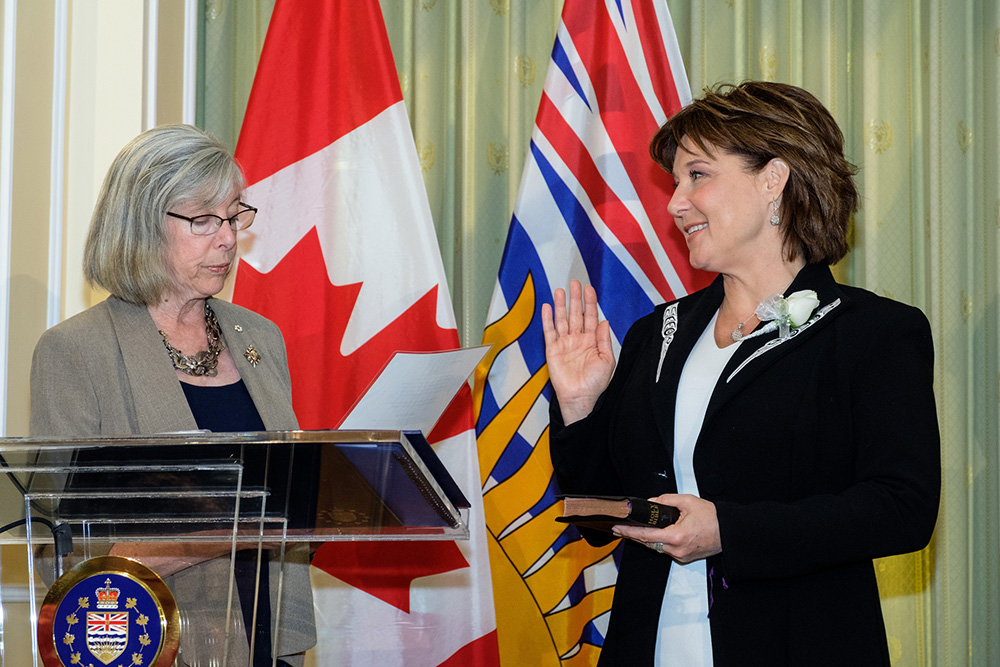 Don't think for a second that it's Christy Clark's nature to go quietly into the night. In response, the BC NDP and Greens may have no choice other than to forge a pact to work together in a snap election.
During the press conference in which Clark responded to the agreement between the BC NDP and Greens to co-operate in a minority government, TV cameras caught a glimpse of her speaking notes. The biggest word written on the page was "humble"; apparently she was reminding herself to dial down her signature scrappiness and appear gracious.
Clark also went on to say she would not resign, but would respect the process by drafting a throne speech and holding a confidence vote — and not right away, either, but a few leisurely weeks later. Then, she named a cabinet that included rumoured candidates for the Speaker's job, thereby taking them out of contention. With a one-vote difference between Clark's Liberals and the 'GreeNDP' alliance, the question of who will put up the traditionally neutral Speaker has emerged as a key one.
All of this has been done with cold calculation. After losing the vote on the throne speech, an apparently humble and gracious Clark could go to B.C. Lt.-Gov Judith Guichon and claim there isn't enough stability in the legislature for any party and request a new election. This would be for 'the good of the people,' of course.
Guichon, a past donor to the BC Liberals who recently praised the late Grace McCarthy for rebuilding the Social Credit party, may very well grant that request.
Meanwhile, BC Liberal fundraisers have been busy replenishing all those corporate donations. One report had them depositing almost $1 million in their bank account three days after the election. Another saw them raising $300,000 in the 48 hours after the NDP-Green agreement was announced.
Tellingly, the BC Liberals have now stopped self-reporting their donations, a practice they used to highlight instead of actually putting controls in place. In short, there will only be one B.C. party with full coffers able to wage a snap election — the Liberals.
Another clue that they're positioning for the polls is the fact that they just pledged to drop their policy of subjecting transit funding spending in the Lower Mainland to referenda, something that helped wipe out their seats in that region.
After they raise their war chest, also look for their doomed throne speech to take a stronger stance on campaign finance reform, which was another of their festering wounds during the recent election. The BC Liberals aren't preparing for opposition; they are preparing for prime time.
How can the NDP and Greens respond? The tribal logic that ruled until their recent agreement would have them back at each other's throats at the ballot box. Broke and divided, they'd be vulnerable to a BC Liberal Party learning from its mistakes — and significantly outspending them. Remember that under the current skewed first-past-the-post electoral system, the Liberals came just a few hundred votes from winning a majority of seats. They will fancy their chances in a rematch.
The only way I see the NDP and Greens being competitive in a snap election is to build on their recent agreement to co-operate in the legislature with a one-time agreement to co-operate during the election itself. They could take their legislative agreement and make it their joint election platform — but most critically, they could plan to not run candidates against one another in any riding. Incumbents would be protected, and in ridings held by the BC Liberals, the party that placed second in the recent election would run a candidate exclusively.
Not everyone who voted NDP will go along with voting Green instead in their specific riding, or vice versa, but most will. Moreover, the two parties would have a shot at a "co-operation" narrative that plays well and can attract new voters, particularly if successfully contrasted against a calculating BC Liberal Party leader who needs to write the word "humble" on her speaking notes.
The end result of such an election pact would probably be a BC NDP majority, so the Greens would need to ensure that the NDP's commitment to electoral reform is front and centre in the campaign. Moving to some form of proportional representation would mean that election pacts of this nature would be moot, and that legislative co-operation would become more routine, giving the Greens a real voice over the long term.
There is only a week or two until all this plays out. Whether B.C. is back at the polls right away or even a few months from now, if the BC NDP and Greens are serious about implementing their ambitious agenda, they may need to set aside their tribalism on the campaign trail. Otherwise they risk putting Christy Clark right back in the driver's seat — and ready for at least four more years of driving the province in the opposite direction.
Original Article
Source:thetyee.ca
Author: Matt Price