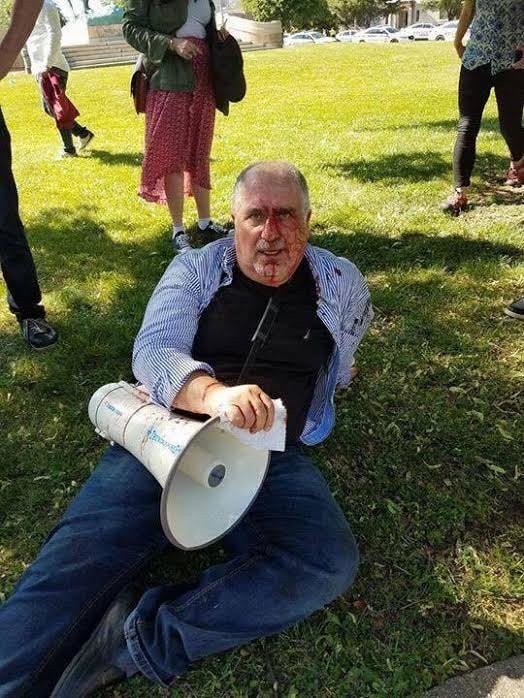 My four-year-old son has been telling what he witnessed yesterday. Two dozen peaceful Kurdish protestors, including two children, were attacked by the Turkish President Erdogan's security guards at the Turkish Embassy Residence in Washington D.C.
His story goes like this, "The bad guys tried to catch mama; mama cried and the police came, and the bad guys hit apo (uncle) Mehmet."
The bad guys are the Turkish President Erdogan's security detail, who have been more than security, acting instead like mafia henchmen. It is a known fact that Erdogan is highly suspicious and that he carefully chooses his bodyguards. For example, one of the bodyguards Tuesday was his cousin.
Tuesday's incident was not the first incident of his bodyguards attacking peaceful protestors.
In 2016, they forcibly removed three women activists from a news conference in Ecuador and also injured one of the lawmakers. No charges were filed against the security guards and they got away with what they did. Again, the same year, but this time in Washington D.C., the security guards attacked protestors in front of the Brookings Institute during Erdogan's speech, and called a woman journalist a slut.
In comparison to Turkey, where everything gets done by the command of Erdogan, and where there is no rule of law, what we witnessed Tuesday on American soil is nothing.
People get attacked, arrested and tortured in Turkey on a daily basis. If you watch the videos you'll see the bodyguards walking over our banners for the leader of the third largest party in the parliament, Mr. Selahattin Demirtas, saying "Free Demirtas Now." We had banners for YPG/YPJ (The People's Protection Units and Women's Protection Units) which have been major forces fighting against ISIS terrorists in Syria and Iraq.
The Kurdish community members who got attacked and arrested Tuesday at embassy row have been protesting ISIS ― and Turkey's support for ISIS ― at the White House, Turkish Embassy, Time Square and other U.S. sites since 2014.
We protested when ISIS attacked Yazidis in Sinjar Mountain, killing men and abducting thousands of Yazidi women and children. The community has staged many protests, which Secret Service and D.C. Police know have never been violent and always followed the rules, as they did Tuesday.
Still, when bodyguards attacked us at the most secure place in the U.S., we were not protected by U.S. police. And I am afraid, as I was in Ecuador, that these security guards will leave the country before official authorities move to do something.
Going back to my son's testimony.
He has been attending every protest ever since he was in my belly. Tuesday's protest was one of them. We got severely attacked. I took my son out of the stroller, tucked him under my arm and ran away.
A bodyguard did not grab me, but passed me to grab one of my female friends by the neck, cursing at her with all the sexist slurs you could imagine. I ran to the other side, tried to seek refuge in the Kenyan embassy.
I told them I witnessed how the bodyguards had beaten my female friend; they told me the police are around, that I would be fine, that they could not let me in.
I cried out of desperation and also told them we, the Kurds, know Kenya very well.
Nine of us were hurt. They even attacked the elderly and women. We will continue to fight to bring the bad guys to justice.
Original Article
Source: huffingtonpost.com
Author: Ruken Isik