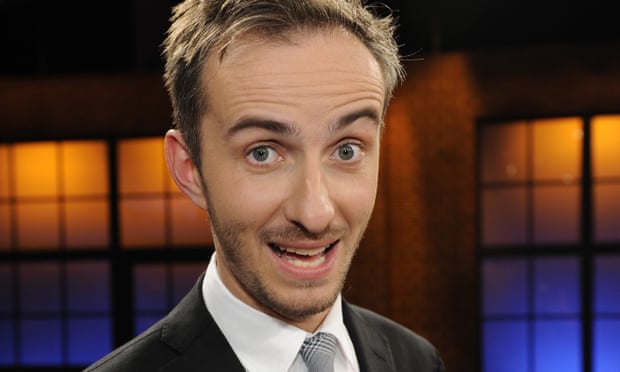 The German chancellor has authorised the prosecution of comedian Jan Böhmermann for reading out an offensive poem about the Turkish president, Recep Tayyip Erdoğan.
Angela Merkel insisted her government's decision did not amount to a verdict on whether the comedian was guilty or not, but should be understood as a reaffirmation of the judiciary's independence.
"In a constitutional democracy, weighing up personal rights against freedom of the press and freedom of expression is not a matter for governments, but for public prosecutors and courts," Merkel said in a press conference on Friday.
Merkel was left with the final decision on whether Germany's state prosecutor should start proceedings against Böhmermann, after Erdoğan requested the comedian be prosecuted.
Under an obscure paragraph of Germany's criminal code, prosecutions for insults against organs or representatives of foreign states requires both a notification from the offended party and an authorisation from the government.
Merkel confirmed reports that there had been disagreements on the Böhmermann affair between the foreign ministry, interior ministry, justice ministry and her own office.
The chancellor also announced that she considered the paragraph of the German legal code that had allowed the Turkish president to request the prosecution to be unnecessary, and that legal steps would be taken towards scrapping it. Paragraph 103 of the German criminal code criminalises insults against organs or representatives of foreign states.
The chancellor expressed "grave concerns" about the prosecution of individual journalists in Turkey, as well as growing limitations to the right to protest, but emphasised Germany's close diplomatic ties with the country.
The poem was read in a short clip on a late-night programme screened on the German state broadcaster ZDF at the end of last month, where Böhmermann sat in front of a Turkish flag beneath a small, framed portrait of Erdoğan, reading out a poem that accused the Turkish president of, among other things, "repressing minorities, kicking Kurds and slapping Christians while watching child porn".
The scene was broadcast shortly after it emerged that Turkey had demanded the deletion of another satirical song from the German comedy show extra3, and Böhmermann's poem was deliberately framed as a test of the boundaries of satire.
Throughout his reading, the comedian is advised by a "media lawyer" who tells him this is precisely the sort of thing that does not qualify as satire.
Original Article
Source: theguardian.com/
Author: Philip Oltermann