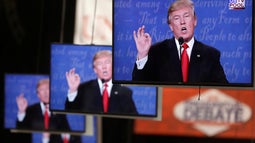 A narrow majority of President Donald Trump's supporters agree with him that the media is their enemy, a new HuffPost/YouGov survey finds, although most Americans overall don't feel similarly.
Trump tweeted last Friday that the media is "the enemy of the American People," a statement that drew criticism from many reporters and disavowals even from some members of his party.
Most Trump voters, 51 percent, say the media is an enemy to people like them, according to the poll, with 36 percent considering the media unfriendly, and just 5 percent saying it's friendly or an ally.
Overall, 22 percent of Americans consider the media an enemy to people like them, with 19 percent saying it's unfriendly, 21 percent that it's friendly, and 14 percent that it's an ally.
That rating scale ― ally, friendly, unfriendly, enemy ― is one YouGov more often uses to measure Americans' views of foreign countries rather than the Fourth Estate. (Just 15 percent of Trump voters, for comparison, consider Russia to be an enemy of the United States.) But the metric seems newly appropriate for domestic use given Trump's comments, not to mention the nation's mistrust toward the mass media, especially among Republicans, and its record levels of political animosity.
Many Americans are also comfortable applying the term "enemy" to describe their political opponents.
Four in 10 Democrats, for instance, say they consider the GOP an enemy to people like them, and 56 percent that they consider Trump an enemy. Across the aisle, 56 percent of Republicans say that the Democratic Party is an enemy to people like them.
Respondents to the poll were somewhat less willing to extend that label to other members of the public who disagreed with their choice of candidates in last year's election. Although 76 percent of Americans who voted for Hillary Clinton say they consider Trump voters to be at best unfriendly, just 30 percent consider them outright enemies. And while 86 percent of Trump voters see Clinton voters as unfriendly or worse to people like them, a relatively lower 39 percent call them enemies.
Original Article
Source: huffingtonpost.com/
Author: Ariel Edwards-Levy